19 children and 2 teachers killed in shooting at Robb Elementary School in Uvalde, Texas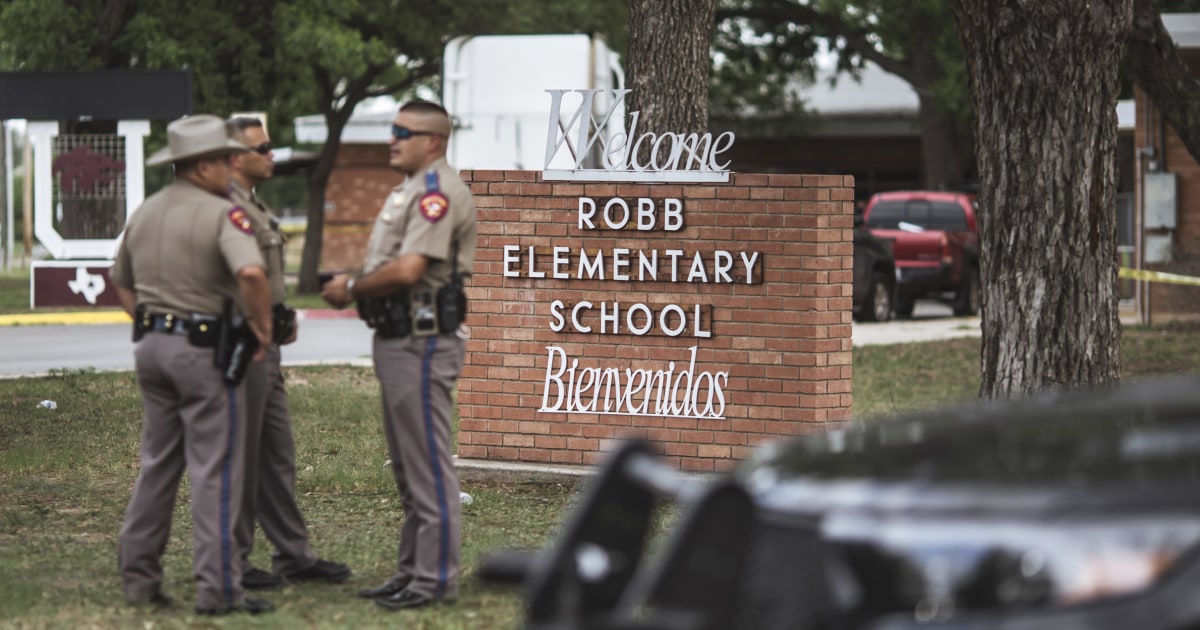 UVALDE, Texas — At least 19 children and two teachers were killed Tuesday when a gunman opened fire at a Texas elementary school, according to the Texas Department of Public Safety.
The suspected shooter, who may have had a handgun and rifle, was also killed when law enforcement confronted him at Robb Elementary School in Uvalde, about 83 miles west of San Antonio, Governor Greg Abbott said at a news conference.
"It is believed that he abandoned his vehicle and then walked into Robb Elementary School in Uvalde with a handgun, and possibly also had a rifle," Abbott said.
Follow our live blog for the latest updates on the Texas school shooting
"He shot and killed, in a horrific and incomprehensible way, 14 students and killed a teacher," the governor said before more deaths were confirmed.
The Texas Department of Public Safety later said 19 children and two teachers were killed, in addition to the suspected shooter.
Several survivors – the exact number has not been published – were being treated in regional hospitals.
It was yet another mass shooting targeting children and educators on a US school campus.
Tuesday's attack recalls the fatal shooting at Columbine High School in Littleton, Colorado in 1999; Marjory Stoneman Douglas High School in Parkland, Florida, in 2018; and Santa Fe High School in Santa Fe, Texas later in 2018.
This might have particular resonance for those who were shaken by the Dec. 14, 2012, attack on Sandy Hook Elementary School in Newtown, Connecticut, when a 20-year-old man killed 20 children and six adults.
Suspect acted alone and shot his grandmother, authorities say
Texas Department of Public Safety Lt. Chris Olivarez said the suspect shot his grandmother, who was hospitalized in critical condition, before heading to school.
After apparently crashing nearby, he drove to campus and opened fire, Olivarez said during a news conference at the scene.
"He started shooting at every person who was in front of him," the lieutenant said.
Olivarez told NBC's "TODAY" show on Wednesday that the shooter barricaded himself in a classroom. Officers outside could hear gunshots but were unable to enter as they were met by a barrage of gunfire. Some were injured.
They eventually resorted to breaking windows to evacuate as many children and staff members as they could.
The Texas Department of Public Safety said the shooter was wearing a body armor and carrying a rifle. But Olivarez told MSNBC they believe the shooter was wearing a type of vest used by tactical teams. It is not clear if the shooter added ballistic protection to the vest.
Olivarez also said the shooter had no criminal history and "was unemployed" with no "friends, no girlfriends, we can identify with."
The attack was reported as a mass casualty incident shortly after 11:30 a.m., authorities said.
The suspected shooter has been identified as 18-year-old Salvador Rolando Ramos, multiple law enforcement sources said.
Olivarez called the suspect an "evil person". He had attended one of the community's high schools, Olivarez said.
"We learn from the investigation that the suspect acted alone in this heinous crime," Uvalde Consolidated Independent School District Police Chief Pete Arredondo said at a news conference.
State Sen. Roland Gutierrez, a Democrat, said the shooter purchased two semi-automatic rifles on his 18th birthday at a gun store in the Uvalde area. It was unclear whether either weapon was used in the attack.
FBI agents and U.S. Customs and Border Protection personnel were helping local law enforcement investigate the suspect's motives and background, authorities said. The Bureau of Alcohol, Tobacco, Firearms and Explosives also stepped in to help.
Teacher identified among the victims; families are still waiting for answers
During this time, the families of those who died have been notified, the governor said.
At least six victims had been publicly identified by family members.
Annabell Guadalupe Rodriguez, third-grade student, 10; and fourth graders Uziyah Garcia; Xavier López, 10 years old; and Amerie Jo Garza, 9; were among the 19 students killed, relatives confirmed to the media.
Family members also identified the two teachers as Eva Mireles, a 17-year-old educator who taught fourth grade, and Irma Garcia, who taught at the school for 23 years.
"I am furious that these shootings continue. These children are innocent. Rifles shouldn't be readily available to everyone," Mireles' aunt Lydia Martinez Delgado said. KSAT-TV of Saint Antoine.
Amid the chaos, parents were looking for children they hadn't heard of. A mother, Maria Garcia, was near the school to question a law enforcement officer in the early afternoon as she was still looking for her 10-year-old daughter.
Her voice trembled as she tried to get answers to her series of questions, suggesting that her daughter might be hiding in the nearby fields.
The daughter of Rosa Arizmendia and Roland Arizmendia was safe, they said, because they picked her up early after an award ceremony at school. But they didn't know where their niece was.
They saw her when they went to pick up their daughter, and Roland Arizmendia said he shouted, "Hi, mija! to her. But he hadn't heard from her since the shooting, and their whole family was looking for her.
"It's like a horror movie," said Rosa Arizmendia. "If it's not our child, someone we know. They are our neighbours.
Outside the SSGT Willie De Leon Civic Center, family and friends sat on concrete blocks.
A man walked out of the center and shared news with one of the waiting groups; some burst into tears and others left. A woman got into her car and screamed.
Exasperated Biden addresses the nation
Addressing the nation from the White House on Tuesday evening, President Joe Biden sounded crestfallen and exasperated.
He asked when America as a collective would stand up and support limits on potent weapons and malicious buyers after another school shooting claimed the lives of "beautiful, innocent sophomores, ninth-graders and fourth year.
The president, who lost a young daughter, Naomi, in a car accident and an adult son, Beau, to a brain tumor, said he knows the pain of Uvalde's parents whose children will never return at home. "God bless the loss of innocent lives on this sad day," he said.
On Tuesday evening, Biden ordered flags to be flown at half-mast at federal buildings and military posts until Saturday.
Victims flood hospitals; wounded include officers
Uvalde Memorial Hospital received 14 patients, 11 of whom were described as children between the ages of 8 and 10, CEO Tom Nordwick said Tuesday evening.
Four patients were discharged. Two, described only as male and female, were dead on arrival, Nordwick said.
Brooke Army Medical Center at Joint Base San Antonio-Fort Sam Houston said it was treating two adult victims who were in critical condition.
San Antonio-based University Health said in a Tweeter that he was treating four patients: a 10-year-old girl and a 66-year-old woman who were in critical condition, a 9-year-old girl in fair condition and a 10-year-old girl in good condition.
Two officers were hit when they apparently exchanged gunfire with the shooter and suffered injuries that were not thought to be life-threatening, Abbott said.
Both on and off-duty Border Patrol agents were among the law enforcement officials who responded. At least one officer was injured in the exchange of fire, according to the Department of Homeland Security.
"At the risk of their own lives, these Border Patrol agents and other officers placed themselves between the shooter and the children at the scene to distract the shooter from potential victims and save lives," Marsha said. Espinosa, DHS assistant secretary for public affairs, in a statement. Tweeter.
Officers also helped transfer students to their families and provide medical support, she said.
Uvalde Consolidated Independent School District Superintendent Hal Harrell said the shooting was a tragic and senseless event.
"My heart was broken today," he said at a press conference on Tuesday evening, his voice shaking. "We are a small community, and we will need your prayers to get through this."
The school year, which was due to end on Thursday, is over, he said.
Uvalde, incorporated in 1888 as a ranch and crossroads town, has a population of 8,921, according to the census.
The school serves second- through fourth-grade students in a city nearly half of which are non-English speaking, according to the US Census Bureau.
According to district data, nearly 90 percent of Robb Elementary School's 574 students are Latino, while nearly 9 percent are white.
About 87% of students are considered economically disadvantaged.
The shooting came after new FBI statistics released on Monday showed active shooter incidents last year were up more than 50% from 2020 and nearly 97% from 2017.
Suzanne Gamboa reported from Uvalde, Texas; Dennis Romero of California; and Minyvonne Burke and Elisha Fieldstadt of New York.