Carteret School Board to Discuss Mask Policy and Final Budget at Wednesday Meeting | New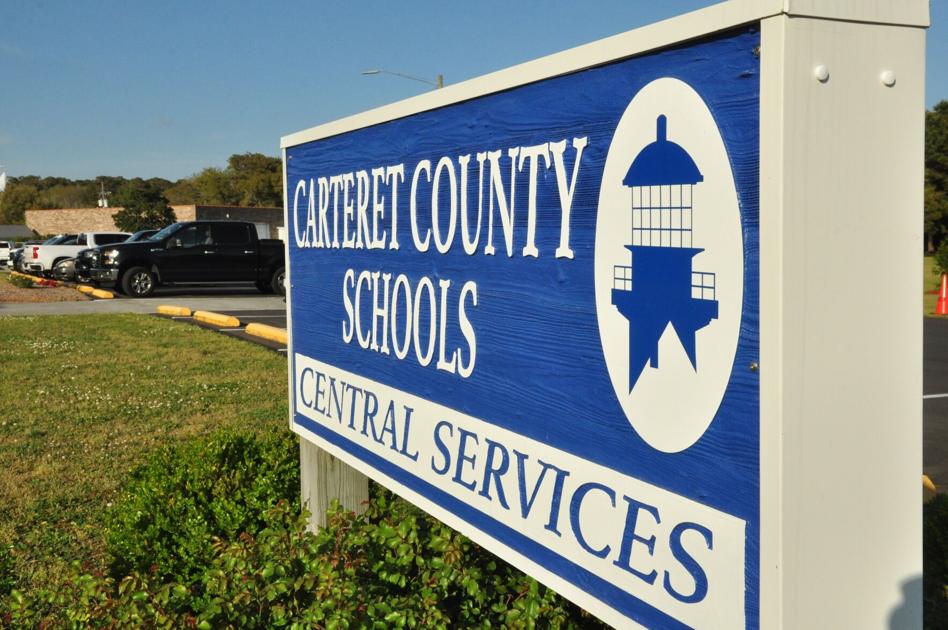 BEAUFORT – Members of the Carteret County Board of Education will discuss Friday's decision to make face coverings optional in public school buildings, a change that was instituted on Monday.
The board will discuss the matter at its meeting, set for 6 p.m. Wednesday at the school system's central office on Safrit Drive in Beaufort. The meeting will be broadcast live on the neighborhood YouTube channel. Public comments will be received at the start of the meeting.
The BOE, September 23, voted to make masks optional once the county's COVID-19 positivity rate fell below 5% on a consistent basis. County positivity rate fell to 4.6% on Friday, and at 5:15 p.m. the same day, officials announced that face coverings at school system facilities would be optional from Monday.
Masks are optional for all students, staff and visitors based on the county's positivity rate. Wearing face coverings on school buses is still required on buses in accordance with United States Center for Disease Control and Prevention guidelines.
In an email response to the decision on Friday night, Superintendent Dr Rob Jackson said, "The county's positivity rate is being monitored daily. This week, the daily rate hovered around 5% before dropping to 4.6% today. In addition, the number of weekly cases affected by the school also dropped to its lowest point this week. "
The school district reported 16 positive cases of COVID-19 for the week of Friday. One case was an employee and 15 were students.
On Wednesday, the board is also expected to approve a final budget resolution of $ 104.5 million for 2021-2022, about 12% more than the $ 93.5 million approved for fiscal year 2020-2021, which ended on June 30.
Much of the increase is due to federal and state funds given to school districts to meet education, health and safety needs during the coronavirus pandemic. A portion of these funds was spent on hiring additional nurses and providing technological and educational support services.
The council will also consider a salary bonus for teachers. The agenda did not provide for the amount of the bonus.
Other items planned during the meeting include:
Consider changing the Federal Emergency Relief Stabilization Budget for Elementary and Secondary Schools, or ESSERS, to hire an ESSERS budget manager. CFO Kathy Carswell is applying for the position, at an estimated cost of $ 150,000, for two and a half years "due to complex federal budgets and additional restrictions," according to the proposal.
Consider approving the 2020-2021 audit report.
Receive an update on the Carteret County Public Schools Foundation.
Receive an update on student academic performance on state assessments in 2020-2021.
Consider several policy revisions for second reading.
Receive an update from the recent Parent Advisory Council meeting in Croatan High School District.
Receive an update on school obligations and capital projects.
In camera meeting for solicitor-client privilege.
Recognize Carteret-Craven Electric Cooperative for its contributions to the county school system.
Recognize students for top honors in the National Future Business Leaders of America competition.
Recognize the winner of the Whole Child Award from the NC Association of Supervision and Curriculum Development.
Recognize the Heart Association Retiree Award.
Recognize the county school system's finance department for winning national awards.
As part of the consent agenda, the board:
Consider personnel issues.
Consider fundraising requests.
Consider student transfers.
Consider appointments to the foundation's board of directors.
Consider the budget planning timeline for 2022-2023.
Consider a review of the school calendar.
Contact Cheryl Burke at 252-726-7081, ext. 255; send an email to [email protected]; or follow us on Twitter @cherylccnt.