Chaos at Mohali University following claims of student videos being shared online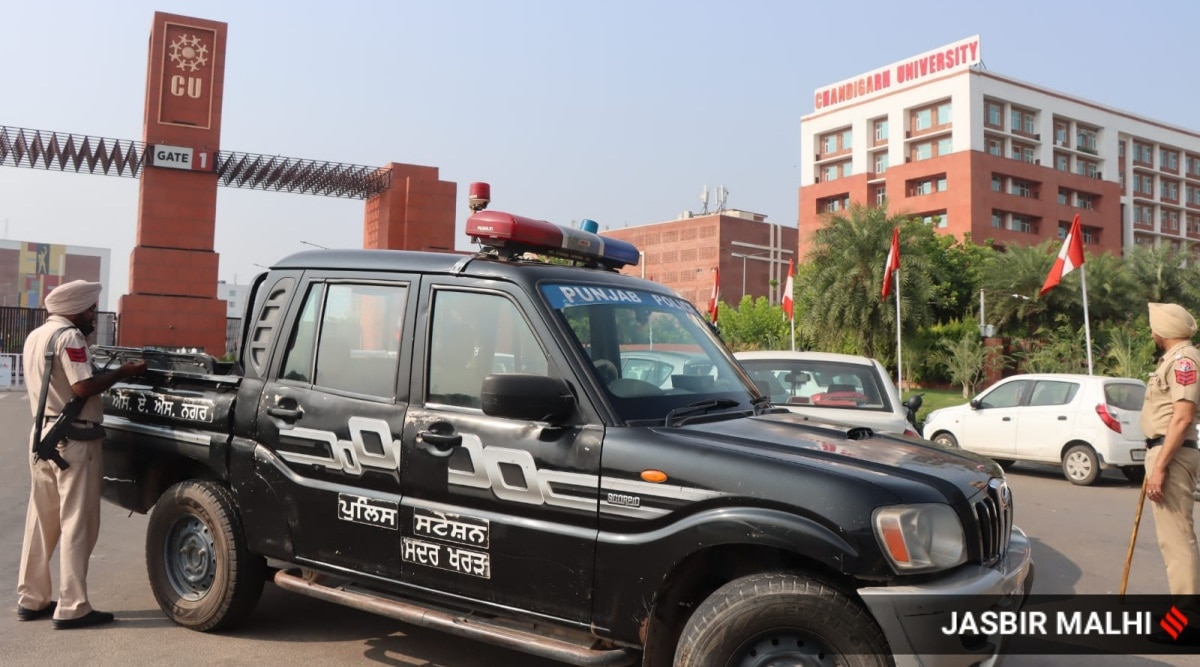 The campus of a private Mohali university in Punjab erupted in protests Saturday night due to "rumors" that objectionable videos of several female students had been recorded by a hotelier. Following the preliminary investigation, police arrested a student and youth from Himachal Pradesh, and said she appeared to have shared videos of herself with him.
Later on Sunday, another person was taken from Himachal by Punjab police in connection with the case. As the protests continued, amid fears that the police and the Chandigarh University administration were trying to cover up the case, Chief Minister Bhagwant Mann ordered a high-level investigation and promised "the toughest action" . Punjab Police Additional Director General Gurpreet Deo visited the university campus with other senior officials to provide an update and reassure students that they had only found videos of the arrested woman. Mann called on students not to fall prey to rumours.
There was chaos on the college campus on Saturday night as students emerged from hostel rooms to stage a protest and videos of 'unconscious' female students being evacuated flooded social media, amid allegations that some of them had committed suicide.
On Sunday, Mohali's deputy commissioner, Amit Talwar, clarified that the suicide allegations also had no truth, and that some girls had just passed out in the melee and received medical assistance. According to the FIR registered against the student charged under Computer Law Section 66-E and IPC 354-C, at around 3 p.m. Saturday, six girls approached their hostel manager to complain that they suspected their friend of having filmed them in the shower.
The hostel manager told police she called the accused and checked her mobile phone, but found no videos of other girls. "She denied filming any other girls, but she was also constantly getting calls from a number. I asked her to put her cell phone on speaker, and a man on the other side said: "Tell the boy to send me the videos." He also shared a screenshot of an objectionable video on his number.
The principal said the accused student told him she did not recognize the number the call came from and that the video the man shared with her was the one she sent to her friend based in Shimla.
massive demonstration of #Chandigarh UniversityGharuan, on "leaked objectionable videos" of female students, in #Mohali. @iepunjab @IndianExpress pic.twitter.com/eXptry1QjJ

— ਜਸਬੀਰ ਸਿੰਘ ਮੱਲ੍ਹੀ 📸 Jasbir Singh Malhi, جسبیر ملہ (@JasbirMalhi1) September 18, 2022
Police then arrested the friend and are investigating whether there was any third party involvement. Himachal Pradesh DGP Sanjay Kundu said: "We have apprehended the said defendant in the case. The person will be handed over to the Punjab Police. Kundu added that at the request of their counterparts in Punjab, a resident of Dhalli in Shimla was "asked to stay at the local police station". "Now Punjab Police have also taken him with them in the above case to verify his involvement."
A police officer said that as the news spread and the students gathered and held up slogans, they found it difficult to control the situation. University officials said they also spoke to students to calm them down.
But protests resumed on Sunday evening, including at a nearby tollbooth, ignoring assurances from Vice Chancellor Anand Agrawal. Many students said the accused student admitted to filming other women, but authorities were trying to cover up the matter. The university suspended classes for two days.
Massive protests continue at the University of Chandigarh over alleged leaks of private videos of female students. Pictures: @JasbirMalhi1 pic.twitter.com/sLSIuOO046

— Express Punjab (@iepunjab) September 18, 2022
Mohali SSP Vivek Sheel Soni said, "I want to clarify that we couldn't find any videos of other women." Adding that this did not mean they were giving anyone a free kick, he said: "The main defendant has been arrested, we have confiscated the equipment."
In an official statement, the Pro-Chancellor of the University of Chandigarh, RS Bawa said: "There are rumors that seven girls committed suicide, when in reality no girl took such action. . No girls were admitted to hospital.
He also denied claims that "60 objectionable MMS were found for different students". "During the university's preliminary investigation, no objectionable student videos were found; except for a home video shot by a girl which was shared by herself with her friend," the pro-chancellor said, adding that cellphones and other materials were handed over to police for further investigation.
Police on the University of Chandigarh campus in Gharuan de Mohali after a student allegedly shot and leaked objectionable videos of other female students. Pictures: @JasbirMalhi1 @IndianExpress pic.twitter.com/gP1teVEbbY

— Express Punjab (@iepunjab) September 18, 2022
Calling it a very sensitive issue, AS Kang, Dean, Student' Welfare, Chandigarh University, said she was taking utmost care to ensure the safety of female boarders and their privacy. "No men are allowed inside, and any male maintenance staff are accompanied by the caretaker."
Kang said the university also asked the police to check whether there was a deliberate smear campaign against the University of Chandigarh, as it was the youngest private university in Asia to enter the QS ranking. .
Regarding the student protests, he said the authorities intervened quickly. "Our officials and the police informed the protesting students, who returned to their hostels."
Rekha Sharma, chairwoman of the National Commission for Women, said she took note of claims that police and university administration were trying to "cover up suicide cases" and wrote to the police chief of the state.
#Punjab | The student accused of leaking the videos also allegedly demanded money from others for not leaking them. After the affair was exposed, the students came out of their hostels and staged a protest late Saturday night. @iepunjab

Read: https://t.co/mkgkqkgzBj pic.twitter.com/ZXbKWv9S48

– The Indian Express (@IndianExpress) September 18, 2022
Gurmeet Singh Meet Hayer, Higher Education, Punjab, tweeted that the matter was very sensitive and "it is my request not to pass on any unfounded news". "There is no news of a student suicide. I ensure justice for university students, especially girls.
Delhi Chief Minister and AAP National Organizer Arvind Kejriwal said those involved in the incident will face the "severest punishment".
Opposition leaders demanded a free and fair investigation and exemplary punishment for the guilty.