CLASS C SWIMMING: Parkhurst of Attica sets both NYS standards and school records with 50 and 100 wins; Avon's Crye will also travel to the United States with the boys as she hit All-American times in two different events. | Sports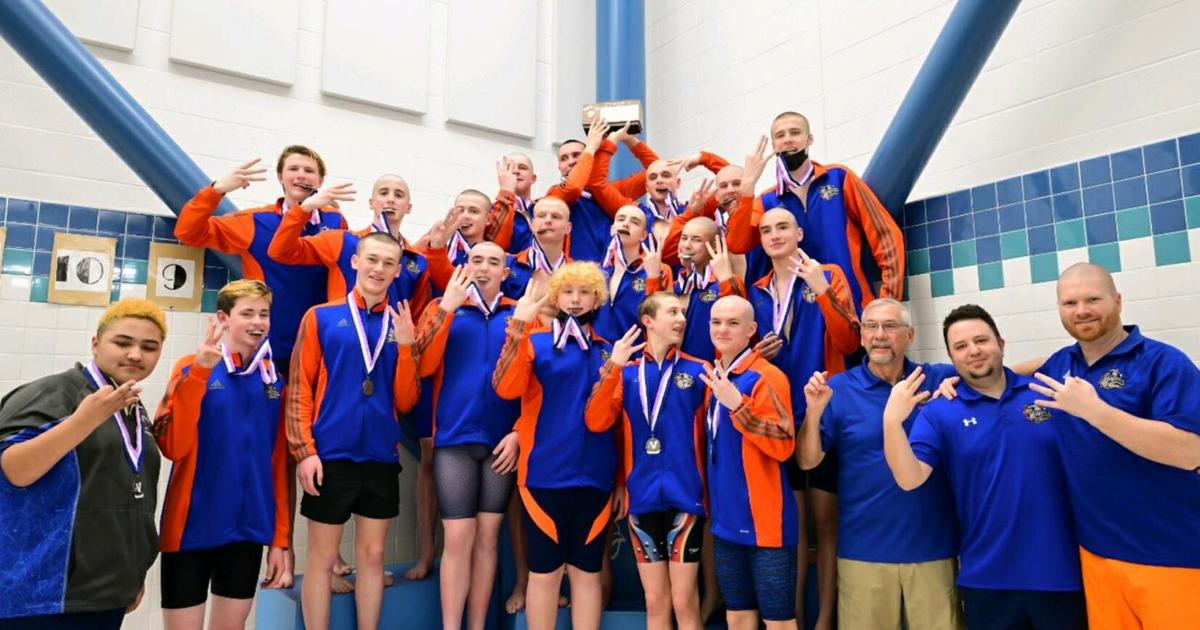 BATH – Livonia clinched their third straight section title on Friday night, winning the Section V class C crown at Bath-Haverling High School.
And they did it with depth in events, not individual champions.
Livonia did not finish in the top three in the pool, but earned a second-place finish in diving as junior Josh VanNostrand finished with 287.80 points.
Livonia's other best results were three fourth-place finishes, including senior Josh Schirtz in the 50 freestyle and junior Luke Lawton in the 500 freestyle.
Lawton and VanNostrand teamed with Garrett Phillips and Garan Renner to place fourth in the 200m medley while Schirtz, Phillips, Thomas Stewart and Lincoln Garwood helped the Livonia 200m freestyle relay finish fourth.
Livonia easily won the title with 327 points while Avon (264) was a distant second with Haverling (206) and Midlakes (206) both tied for third.
Byron-Bergen-Leroy, who placed seventh overall, won a relay and two other individual events.
They opened the competition with victory in the 200m medley relay in a school record time of 1:45.11 as Jackson Fix, Peyton Koukides, Brady Fix and Aiden Soggs took the win.
Avon would go second as sisters Jessie and Joleigh Crye, along with Shea Leonard and Ian Gallagher hit the wall in 1:47.88,
Senior Joleigh Crye scored points in every event she competed in, including hitting the boys' state standard with her 100 butterfly victory in 53.77 seconds, winning by three seconds to also beat the pool record, which she already possessed.
Joleigh is the first girl from Section V to bring the state together during the winter season.
University of Cincinnati-bound Crye also finished second in the 100m breaststroke with a time of 1:01.31, snuffed out by Marcus Whitman's Carl Parsons (1:00.75). Crye's time just missed the NYS standard, but her time was good enough for the girls' All-American status.
"I'm super excited to be able to compete in the States," said Joleigh. "Since eighth grade, I have worked extremely hard to be able to achieve this. It was so heartening to see everyone cheering me on at the sections. Crye, along with Gallagher, Kaitlyn Geary and Alex Mayen would place third in the 400 freestyle relay to end the evening.
Dansville junior Zack Kreiley, who finished third in the 100 breaststroke, repeated his 500 freestyle title with his winning time of 4:59.22 for the Mustangs' only win of the night.
BB-L's Jackson Fix, a sophomore, was part of three wins on the night as he also won the 100 backstroke (54.90) and 200 freestyle (1:21.80).
The team of Jackson and Brady Fix, along with Soggs and Koukides also placed second in the 400 freestyle relay.
Attica sophomore Joseph Parkhurst twice won the 50 freestyle (21.80) and 100 freestyle (48.46) winning each event with NYS standard times that were also school records .
Parkhurst was also named the competition's best swimmer.
"Sectionals is a two-day encounter," Attica coach Anthony Ianni said. "On the first day, Joe didn't perform as well as he wanted. In the 50 he swam slower and in the 100 he went from first to third. He didn't let that setback bother him for Friday's finals. He bounced back big. Win both individual events and qualify for the state meet in both. Extremely proud of his performance tonight. Joe is just a sophomore and puts on incredible performances.
Brady Fix finished second in both events won by Parkhurst.
BB-L head coach Sara Stockwell was rightfully named Class C Coach of the Year.
"It was so awesome to see their hard work come to fruition," Coach Stockwell said of her team's outstanding performance. "Brady and Jackson Fix have the talent and work ethic that's a great combination. They lead by example every day in practice and have helped shape the culture of this team. I'm so proud of these kids.
"I'm really happy for all the swimmers," he said. "We had 17 races in total with 15 personal best times. Tonight we exceeded expectations.