Columbus, Ohio teachers' union and school board reach settlement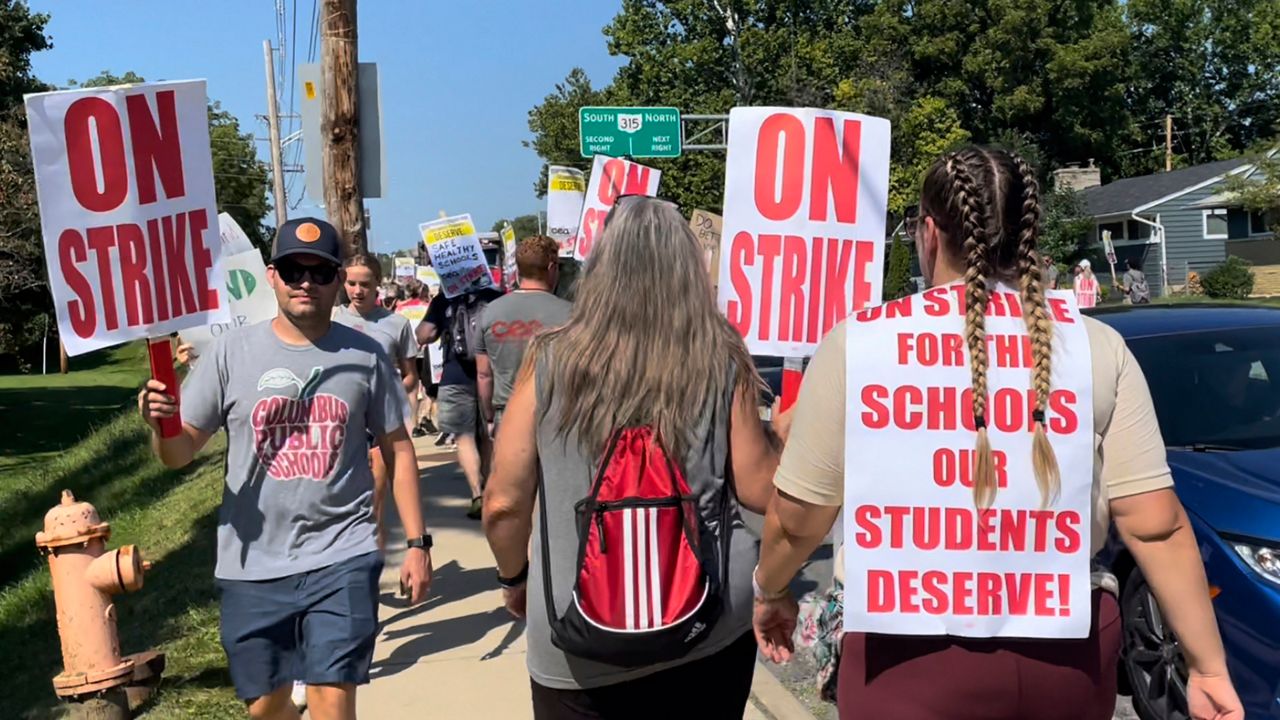 COLUMBUS, Ohio — The Columbus Education Association and the Columbus Board of Education reached a "conceptual agreement" at 2:38 a.m. Thursday, ending a teachers' strike in the state's largest school district.
Students will return to class on Monday, the school district announced.
"Tonight, we are pleased to announce that we have reached a conceptual agreement with CEA leadership, and our children will resume in-person instruction on Monday," board chair Jennifer Adair wrote in a statement. Press release. "While details cannot yet be released, the contract recognizes the Council's commitment to improving our student outcomes, the essential work of CAOT members, and strengthening our learning environments."
Students at Columbus City schools were scheduled to start the year Wednesday with remote learning as teachers picketed across the city. Students will complete the week remotely.
The groups returned to the bargaining table on Wednesday afternoon, where teachers sought 8% pay raises and demanded building improvements, such as heating and air conditioning, as well as smaller class sizes. Initially, the district offered 3% wage increases and was hesitant about improvement commitments.
More than 4,500 teachers, counselors and other school workers went on strike starting Monday morning for the first time since 1975. Throughout the week, community members, CCS Alumni and several current students have joined them on the picket lines.
Mounir Lynch, a graduate of Columbus Alternative High School in 2015, found himself at his old high school for the first time in nearly a decade on Wednesday to join some of his former teachers on the picket line.
"I made a lot of great memories and a lot of great relationships that last to this day," Lynch said.
Some students described their first day as difficultfrustrating and depressing because they thought they would be back in class in person and not online.
For student Larae Portis, it was a setback and a setback.
"My first thought went straight back to the COVID year where we were immediately online forever and then I finally thought 'Oh my senior year we're going to have everything and stuff like that and then they said online .' So, I was a bit disappointed," Portis said.
The teachers' union and the district did not release details about the deal.
"This agreement would not have been possible without the unwavering support of parents, community members, unions and local businesses in Columbus," CEA wrote in a statement. "It was a citywide effort that helped CEA win the schools Columbus students deserve."
ACE wrote that members will first review and vote on whether to ratify the overall concept agreement before sharing details with the community.
Spectrum News reporter Jamilah Muhammad contributed to this report.