Creativity and originality are compromised in online courses | Nagpur News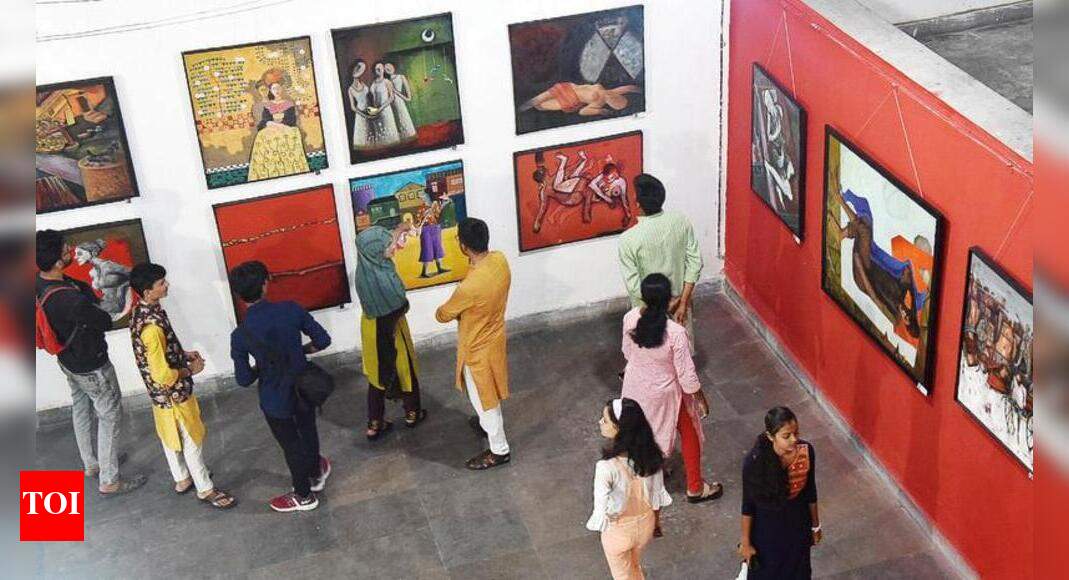 When arts students were admitted to first year in the early 2020 session, they looked forward to an aesthetically pleasing campus where they would learn, interact and observe. But the pandemic only allowed online classes.
"Most of the learning in the first year is done by observing the work of the elders through exhibitions held at the college and by learning from each other. We've missed all of that over the past two years," says Karan Uikey, a second-year student at Government Arts College.
"The online classes were for nothing. It was just academic work as we learn best by doing and through the guidance our teachers give us individually and in person on campus," say students who feel deprived of the two most formative years of their artistic education.
The arts are a subject of interest and students entering colleges are eager to learn the techniques and hone their skills. Admission to government colleges in Mumbai, Pune, Nashik and Nagpur is difficult as there are only 375 places for which more than 10,000 students compete. Admissions are done by CET. At a very minimal cost, these government colleges offer the best in facilities and faculty.
"Most of the students in Nagpur come from smaller districts like Wardha, Chandrapur, Buldana, Yavatmal and Amravati. Many also come from economically weaker sections and can barely afford their education," says university professor Kishore Ingle.
"In the first year, students learn the basics of drawing. These are the most formative courses for an arts student. The college hires models for Rs 400 per day to help them learn portraits. We also place in class antiques that they see and draw. All of this was not possible in online courses," adds Ingle.
Students also had to struggle to obtain materials like paper, canvas, charcoals, acrylics and other specific materials, as stores selling these items remained closed during the shutdowns. "There are specific stores that sell art materials. Most remained closed and those that were open were out of stock. We had to practice drawing on newspapers and using charcoal because charcoal pencils were not readily available," says Harshita Heliwala, a second-year student.
"The missions entrusted to us the first year were not stimulating enough for our creativity to emerge. In fact, most of the time we just had to copy the drawings," complains Shridhar Dhalvi, a second-year student.
"We're back on campus now, but we're feeling a bit distraught. There were no introductions between our classmates, we don't even have a good understanding of the materials or drawing sheets we use. Now there's this rush to complete the program. It's like we're in fast-forward mode," says Mitesh Ghose, adding that many of them also attend first-year classes to pick up what they missed.
Those in third and final year also say that the closing of colleges has left them on the floor. "Some of us take on painting jobs outside of college to help cover education costs. We also participate in exhibitions and network with art buyers. But during the confinement there was no work or activity. With the arts world in crisis, there is a feeling of insecurity," says Sayantan Bose, a final year student and this year's winner of the Bombay Art Society award.
Creativity and learning have been compromised due to online teaching, Ingle agrees but adds: "It can be fixed if one is willing to work hard."
Giving the example of an Amravati student, Aniket Devgirkar, who was admitted in 2020, Ingle continues: "He didn't have a smartphone, so he missed classes. The same year, his father died in an accident. Her mother works as a cook. Her brother said they couldn't afford a smartphone, so I made a request in my social media groups and people responded.
A brilliant student, Aniket wanted to join JJ School of Arts so he again appeared for CET and got 10th and is now in JJ. "I tell students that the college and studio are open in the summer and they can come and catch up on what they've been missing," Ingle says.
FOLLOW US ON SOCIAL NETWORKS