Excellence in Online Teaching Award – Office of the Provost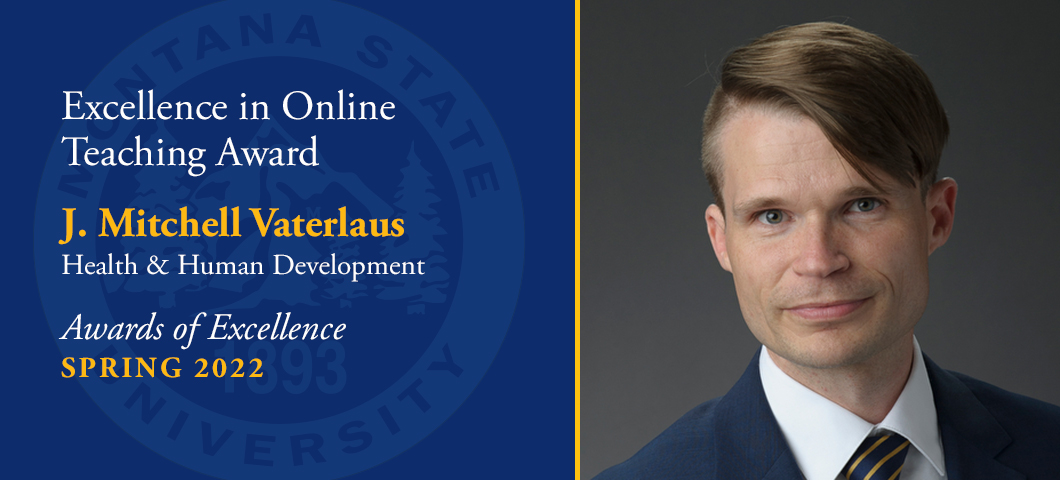 J. Mitchell Vaterlaus
J. Mitchell Vaterlaus, associate professor in the Department of Health and Human Development, won the award for excellence in online teaching. The prize is accompanied by a compensation of $2,000.
Vaterlaus, who taught 21 courses entirely online during his time at MSU, is known for demonstrating exceptional teaching and mentoring of students in online environments. Students in these courses give him high teaching marks and report that Vaterlaus is organized, engaging, student-focused and responsive. He is also known for communicating regularly with students in online classes, providing one-on-one feedback and sharing short recorded lectures that outline key concepts in clear, easy-to-understand points. Additionally, students say that the expectations and requirements for its online courses are clear and that the courses are structured to facilitate collaborative and flexible online learning.
Vaterlaus is also said to exemplify best practices for online education and use innovative approaches. Its course content includes engaging assignments aimed at helping students relate theoretical concepts and content to the real world around them. An example includes phone-a-friend assignments aimed at connecting students with each other outside of the online classroom. It also uses a number of online technologies to enhance the online teaching and learning environment.
Vaterlaus generously extends its expertise in the online domain to the MSU community and beyond. He participates in presentations and panels at the Center for Faculty Excellence and sits on the university's TEACH committee aimed at providing faculty with opportunities to improve their teaching. He also provides informal mentorship to faculty looking to create online courses, and is a sought-after speaker in online education regionally and nationally.