Five zone grapplers bring Sec home. Class V B2 wrestling titles, highlighted by Gaiser's fifth straight | Sports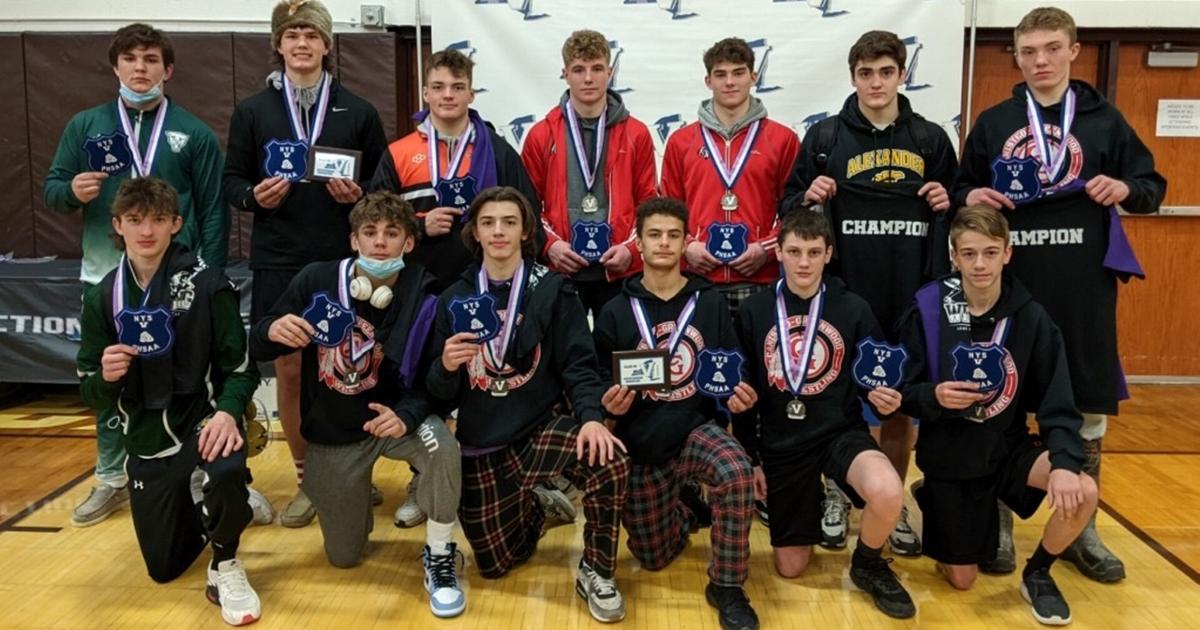 EAST ROCHESTER – Saturday afternoon was one of the standout achievements for local grapplers, with five athletes from the region claiming their podium spots at the Section V Class B2 Wrestling Championships.
The list of local champions was highlighted by Alexander senior Mitch Gaiser, who won his fifth consecutive section title. Gaiser was joined atop the podium by fellow Trojans senior Benny Merrill, Letchworth senior Ryleigh Duryee and Letchworth junior Chris Shearing, and Warsaw senior Connor Hare.
Gaiser won his fifth straight Sec. Championship V, which he won with a 5-2 decision over Canisteo-Greenwood's Braidon Woodward in the 152-pound final. Woodward had already won three straight section titles and entered the tournament as the No. 1 seed.
"Mitch had a great Finals game," Alexander head coach Scott Wessel said. "He was able to dictate the pace of the game and constantly stay in position. He remained technically sound and offered very little for Woodward to capitalize on. It was a tough and uncompromising victory, which is the hallmark of a championship caliber wrestler.
The No. 2 seed at 152 pounds, Gaiser pinned all three opponents en route to the final. He cornered Williamson's Raul Trejo (:30) in the preliminary round, beat Le Roy's Gavin Vito (:21) in the quarter-finals and pinned East Rochester's Derek Geronimo (1:19) in the semis before fight Woodward in the final.
Merrill also claimed championship glory, at 138 pounds after pinning CG's Lucas Mason in 4:15 in the title match. The championship victory was the first of his career for Merrill and his 100th career win.
"Benny came into Sections with a singular mindset – to release a Section Champion," Wessel added. "Benny has a unique blend of technique and strength that sets him apart at 138. But what really sets Benny apart is how much he loves wrestling. He loves the grind. The tougher the situation, the more Benny shines He's a real "player" and he's never out of a game.
Merrill, who earned a first-round bye as the No. 1 seed at 138 pounds, fought his way to the final, using just :26 to send Warsaw's Daniel Debadts into the quarterfinals before of sticking Logan Caves of North Rose-Wolcott in: 37 in the semifinals and defeating Mason in the title match.
Duryee (160 lbs) and Shearing (172 lbs), who both competed as No. 1 seeds, also placed first in their respective weight classes. Duryee earned his championship win by decision, 8-1, over CG's Keegin Christian, while Shearing pinned Byron-Bergen's Malachi Smith in 2:56 in the 172-pound title match.
Duryee's run started with a bye in the preliminary round before pinning Holley/Kendall's Anthony Fallato (2:39) in the quarterfinals and Alexander's Mason Bump (1:36) in the semis . He then ran through CG's Christian in the championship game.
Shearing's run to the title was also dominant. The Letchworth junior pinned Mynderse's Blayze Keefer (1:16) in the preliminary round before winning a technical fall (16-0) to Pavilion/York's Toby Stappenbeck in the quarter-finals. He followed that up with a pin from Wellsville's Shane Davidson (3:22) in the semis before taking care of BB's Smith in the final.
Warsaw's Connor Hare was the last zone wrestler to earn a sectional patch, earning a 3-1 win in the 215-pound final over Williamson's Orlando Cervantes-Nava. The Warsaw senior earned a first-round bye, pinned East Rochester's Dillon Cartagena in just:05 in the quarter-final, cornered Holley/Kendall's Jorden Ostrander (1:46) in the semi-final and capped things off with a solid win over Cervantes-Nava in the final.
Hare, Duryee and Shearing each won their first career Sectional Championship patch.
Hare, the No. 1 seed at 215 pounds, received the Sportsmanship award at "B2," while Gaiser took home Most Outstanding Wrestler honors for the higher weights.
A few homegrown athletes took home runners-up, including Alexander's Ryder Reichert (102lbs), Gage Wagner (132lbs), BB's Smith and defending Section Champion Brock Flint of Le Roy (145lbs) .
Canisteo-Greenwood won the Sec. Class V B2 team title, edging out runner-up Alexander, 316.5-161.
"I am extremely proud of the hard work of our team," concluded Wessel.
The second. The V Wrestling State Qualifiers, otherwise known as the "Supersectionals," will be held next Saturday at the SERC Center in SUNY Brockport.