Fresno City College Celebrates National Library Week – The Rampage Online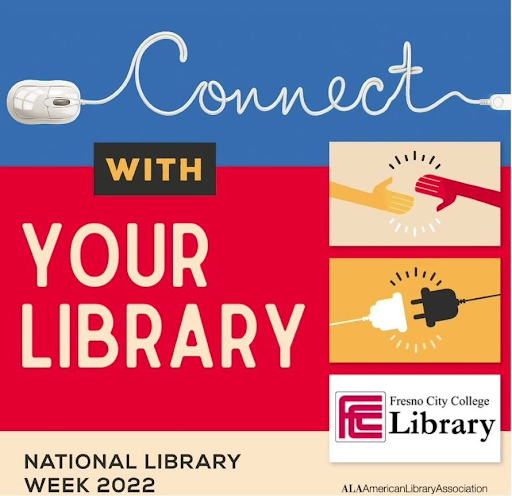 Fresno City College is just one of millions of libraries nationwide celebrating National Library Week. This annual celebration was created by the American Library Association (ALA) in 1958 to encourage reading.
This year, National Library Week took place from April 3 to 9 with the theme "Connect to your library", and was chosen to promote all the technological resources provided by libraries.
FCC celebrates National Library Week with events on campus and online as well.
The library offered a library-themed bingo and trivia night, which students were able to participate in virtually. Prizes for the evening included a selection of reading stickers and a $5 gift card for ampersand ice cream.
The FCC Library also issued a social media challenge for students, teachers and pets to dress up as favorite book characters. One of the characters that appeared on the FCC Library Instagram was the llama lama in Ana Dewdney's "Llama llama Red Pajama", who was dressed by librarian Shivon Hess.
The library also provided activity booklets which could be picked up at the library during National Library Week.
Students and teachers were able to spend time on a word search puzzle and coloring pages. For those who were not on campus, the library also provided a printable version of the activity booklet.
FCC Librarian Shivon Hess said that since the pandemic, libraries have had to go online-majority in order to provide more virtual access for students and faculty.
Although the theme for National Library Week is "Connect to Your Library," the FCC Library is more than just a place to access books, whether online or in person. Libraries not only provide access to computers, printers, and books, but they also provide students with a safe and quiet workspace.
"Libraries can meet many community needs and we cannot take that for granted," Hess said.
National Library Week themes change each year, and Hess hopes that next year more students will be back on campus and able to participate in the events.
For more information on library resources and hours: https://www.fresnocitycollege.edu/academics/library/index.html