Internet use in adolescents associated with stress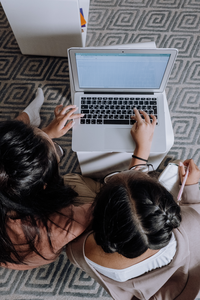 Survey of nearly 30,000 high school students in Korea finds association between non-school time spent online and mental health, with teens who spent more time online having higher stress levels and more feelings of sadness and suicidal thoughts. The new study is published this week in the open-access journal PLOS ONE by Yeunhee Kwak of Chung-Ang University, Korea, and colleagues.
Internet use in adolescence has been shown to be associated with emotional and physical problems, but there is a need to investigate the exact factors that play a role in this association. Previous studies have not always distinguished between types of Internet use, which has made it difficult to interpret their results.
In the new study, researchers analyzed data from 29,811 high school students aged 16 to 18 who responded to the 2018 web-based survey of risky behaviors among young Koreans. Information on non-academic Internet use, mental health and general student characteristics was also available.
On average, students in the study spent more than 3 hours per day on the Internet for non-academic purposes (mean 193.4 ± 1.6 minutes). Internet use was highest among students in lower grades, female students, students of low economic status, and students with low academic achievement, among other groups.
Students with low internet use appeared better off on a range of measures: even after controlling for all available demographic characteristics, they reported better health (OR 0.67, 95% CI 0.63-0, 71), reduced stress (OR 0.83, 95% CI 0.76-0.90), fewer feelings of sadness (OR 0.90, 95% CI 0.84-0.96) and fewer suicidal thoughts (OR 0.75, 95% CI 0.69-0.82) than the group with high Internet use.
Although the results cannot demonstrate a causal link between Internet use and mental health, the authors believe that active support and interventions are needed to reduce feelings of stress and sadness in adolescents, and that programs that promote healthy internet use replace internet use with social and physical activities and helping teens maintain good relationships may play a role.
The authors add, "This study examined the association between Korean high school students' non-academic Internet use time and their mental health using the 2018 web-based survey of Korean youth's risky behaviors. . Korean high school students spent an average of 193.4 minutes per day using the Internet for non-academic purposes in 2018. Students with above-average Internet use had poor subjective health and higher stress levels and experienced feelings of sadness and suicidal thoughts.
#####
In your coverage, please use this URL to provide access to the article available for free in PLOS ONE: https://journals.plos.org/plosone/article?id=10.1371/journal.pone.0264948
Quote: Kwak Y, Kim H, Ahn JW (2022) Impact of internet usage time on adolescent mental health: Use of the 14th Youth Risk Behavior Web Survey in Korea 2018. PLoS ONE 17(3 ): e0264948. https://doi.org/10.1371/journal.pone.0264948
Author countries: Korea
Funding: The authors have not received any specific funding for this work.
---
Research method
Investigation
The title of the article
Impact of Internet Usage Time on Adolescent Mental Health: Use of the 14th Korean Youth Risk Behavior Web Survey 2018
Publication date of articles
March 23, 2022
Conflict of Interest Statement
The authors have declared that there is no conflict of interest.
Warning: AAAS and EurekAlert! are not responsible for the accuracy of press releases posted on EurekAlert! by contributing institutions or for the use of any information through the EurekAlert system.