Midland elementary teacher makes big impact on students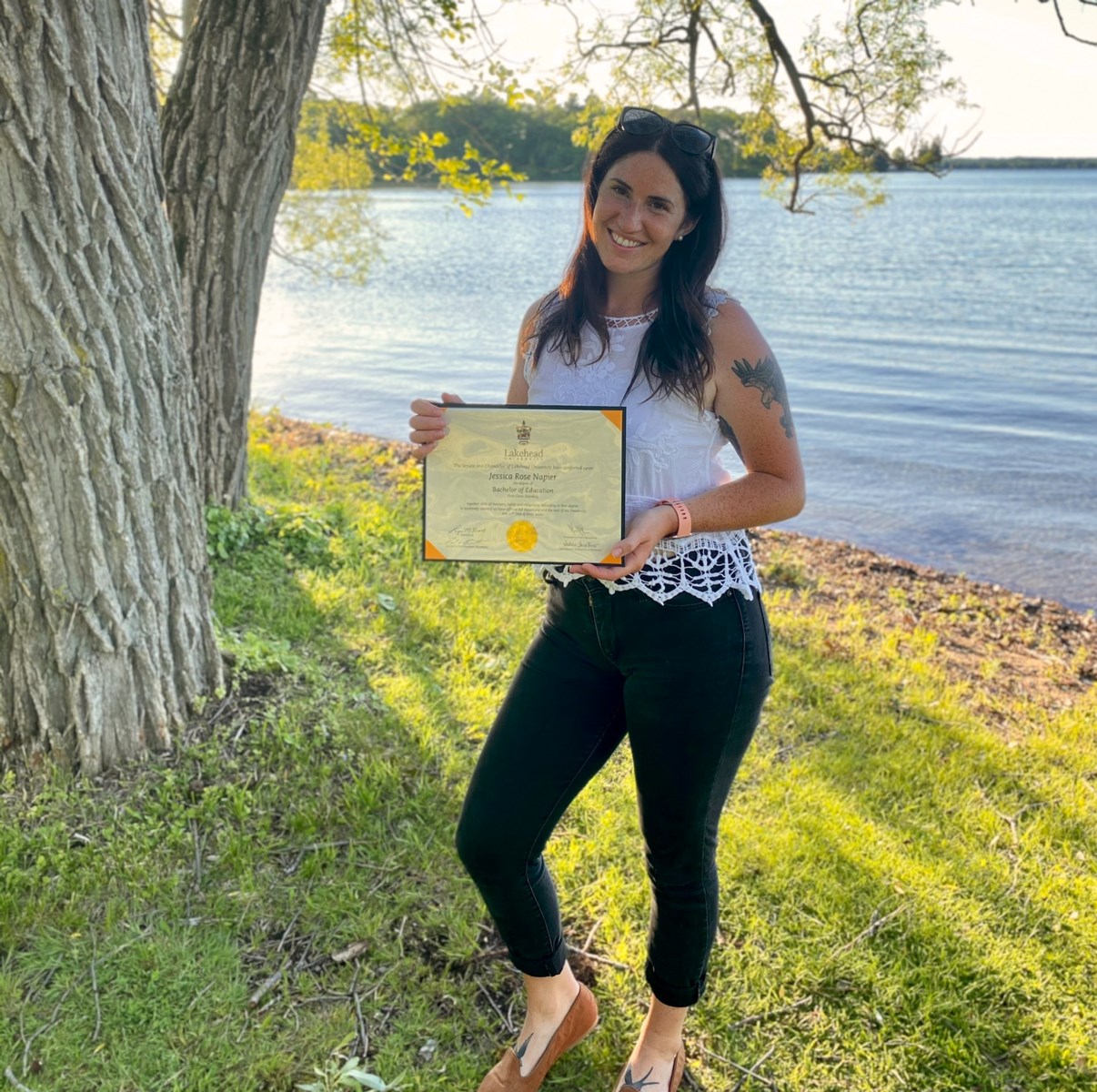 Jessica Napier receives Impact Award for her dedication to helping students excel in math
As she enjoys the last month of summer vacation, Jessica Napier can't wait to get back to helping students excel.
The teacher at Mundy's Bay Public School in Midland was recently recognized for her contribution to her students' learning with an Impact Award.
"It's recognition for putting research into practice, which I thought was pretty cool," says Napier, who lives in Orillia and graduated from Teachers' College a few years ago. "Mathematics is my niche, of course, and I just wanted to make sure that prevailed in my class."
Now in its second year, the Impact Award program is designed to recognize math teachers who have used research-based teaching methods to generate significant improvement in achievement in their classroom.
Although she was unable to attend the recent awards ceremony in Toronto, Napier said she was honored to receive the award when her manager presented it to her.
"It was an award from Knowledgehook, which is a board-approved technology tool that we use to assess a student's progress and learning in math," Napier says. "It's a fun way to review concepts and it ties directly into the Ontario curriculum.
Napier started using Knowledgehook in 2020 and 2021 while teaching virtually and, like many teachers at the time, was looking for fun and engaging activities.
"The first time I used it was with my 5th graders and they had so much fun," she says. "They don't just answer questions, it's more of a game for them."
The software company noticed that Napier used the tool regularly in his teaching and asked if they could interview him and post a video for other teachers to see. This video and further study led a jury to award him the Impact honor.
A member of the Impact Awards jury noted that Napier's class is very student-centered and focused on the success of all.
"Students are encouraged to take risks and not be afraid to make mistakes, because mistakes make the brain grow," wrote MaryLou Kestell, former president of OAME and specialist in teaching and learning. mathematics.
"With a variety of teaching strategies, including 3-act math and technology applications, Jessica engages students in mathematical investigations using a selection of tools."
Panel member Tracee Tomlinson added, "Jessica fosters an accepting and inclusive classroom environment where she incorporates an abundance of supportive teaching resources that align seamlessly with her classroom curriculum.
"She strives to encourage her students to develop a growth mindset by implementing frequent collaboration and engagement through interactive ways of using technology in math, such as using visual manipulations and activities/games."
But teaching is actually Napier's second career, having started as a graphic designer after college.
"I loved my job, but my favorite part of my job was teaching people or training new employees and helping other designers learn a technique that I love," Napier said, adding that her outgoing and social personality in helping others led to a colleague suggesting that she become a teacher, a path she soon followed.
"I always wanted to be a teacher, but I never thought I could do it."
The Toronto native eventually started volunteering in a classroom and found she was thrilled with her day and what she had contributed to students' learning and lives.
"I felt like it was so rewarding, so I thought I'd give it a try," she said.
And Napier said she realized she could use her tech bachelor's degree as an additional educational resource.
"That's kind of what got me the (online teaching) job as soon as I left Teachers' College because I had so much experience in technology. It really is the best of both worlds," she said, noting that her current job as a teacher allows her to use both her creative side and her tech-savvy side.
Arriving in Mundy's Bay in November 2020, Napier taught a Grade 6/7 class during the 2021-22 school year and will teach a Grade 4 class for the coming year.
She adds: "I can do what I love and I can pull those talents from my other career, so it's pretty amazing."