Nancy M. Andrews Craig | Falmouth obituary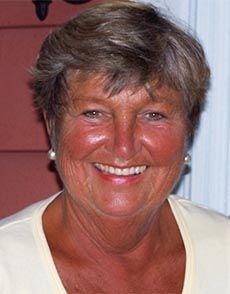 In memory of love: Nancy M. Andrews Craig, 87, of Falmouth, died on June 21, 2021.
Born in Worcester, MA on May 18, 1934, she was the eldest daughter of the late Joseph A and Helene C. (Sulkis) Andrews of Worcester. She graduated from St. Peter's High School in Worcester, attended Regis College and Simmons College, and graduated from the Worcester Hahnemann Hospital School of Nursing.
She was predeceased by her 52 year old husband Donald G. Craig in 2010 and also 2 of their sons Matthew A. Craig who was killed and buried in Alaska in 1992 at the age of 24 and Todd A. Craig, who died February 4, 2014 at the age of 52. Nancy leaves a brother Richard D. Andrews and his wife Joan of Concord, NH and a sister "Gige" A. Hughes of San Francisco, CA. She is also survived by her eldest son, David A. Craig of Palm Beach, Florida.
Nancy was an accomplished classical pianist, was frequently on WTAG, and recorded records for the Sherwood Music School in Chicago. She also had a small catering service. She loved gourmet cooking and entertained many people with dinners in their different homes. They moved 29 times in 52 years, luckily despite their frequent moves, Nancy was able to accept a job as a registered nurse at local hospitals, especially VA hospitals which were the most considerate of her previous jobs.
She participated in church and school activities and chaired the parish council and PTA in St. Aloysius and some women's groups. While her family was stationed in the Ryukyu Islands of Okinawa, she taught "American" at Naha Regional High School, albeit with a Massachusetts accent. She was a daily communicator, Eucharistic minister, and reader at St. Aloysius Church in New Canaan, CT, Assumption Church in Westport, CT, and most recently St. Patrick's Church in Falmouth.
A funeral mass will be celebrated at 11 am on Tuesday July 6, 2021 at St. Patrick's Church, 511 Main St. Falmouth, followed by interment at St. Joseph's Cemetery in Falmouth.
In lieu of flowers, contributions can be made to the Matthew Andrews Craig Scholarship Fund c / o WPI University Advancement, 100 Institute Road, Worcester, MA 01609-2280. Please pray for Nancy's immortal soul. God bless us all.
Arrangements edited by Chapman Funerals & Cremations, 475 Main Street Falmouth, MA 02540. For online condolences, please visit chapmanfuneral.com