National Award Finalist St. Joe Teacher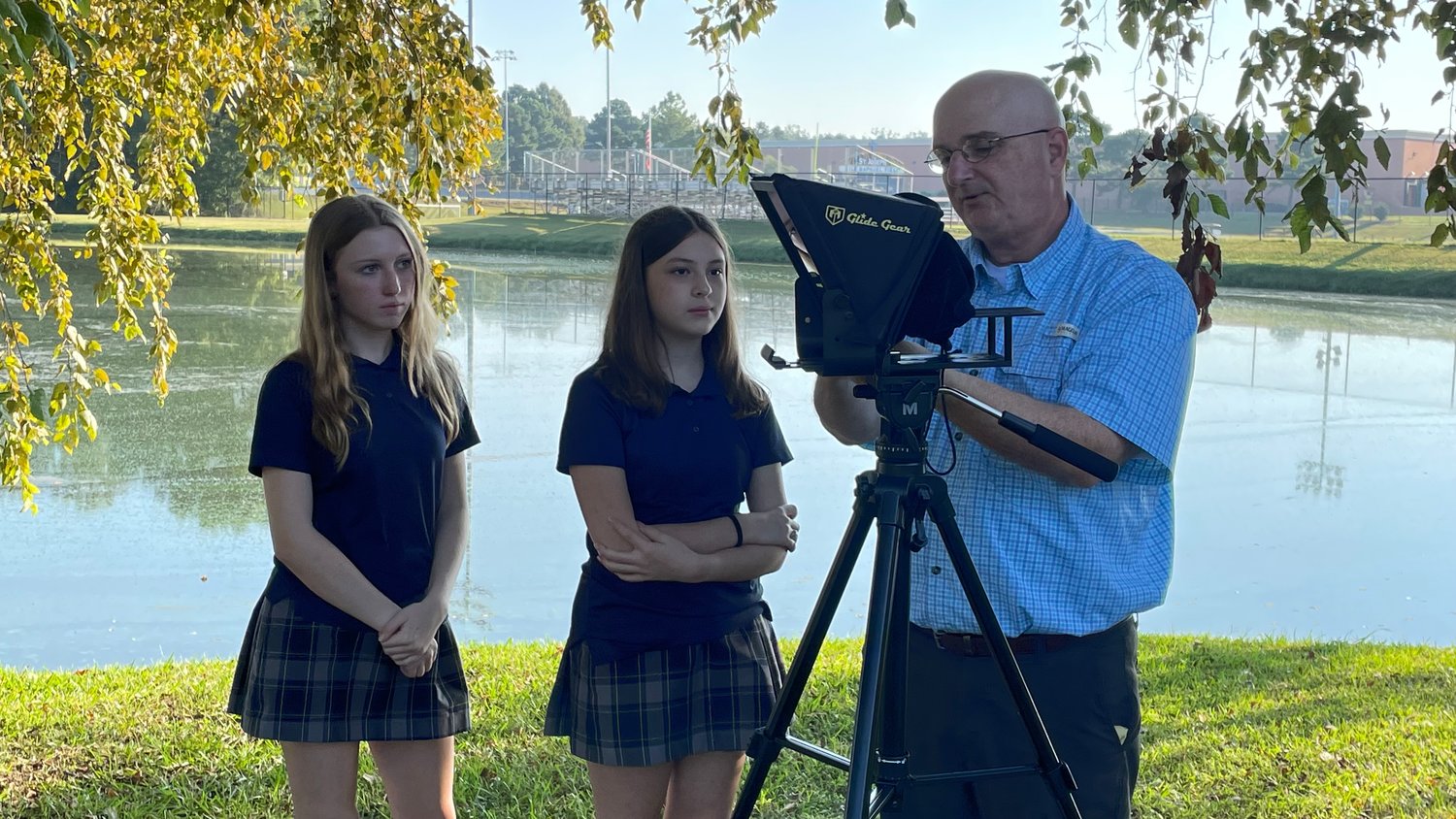 By John Lee
MADISON — St. Joseph's Catholic School journalism teacher Terry Cassreino said being a finalist for National Broadcast Advisor of the Year is more a reflection of the hard work of his students than it is. something else.
Cassreino was named one of the top high school broadcast journalism advisers in the nation for 2022 and a finalist for the national award for broadcast adviser of the year last week.
"I have been fortunate to teach hardworking and incredibly talented high school journalists over the past 10 years who have embraced my vision for the broadcast journalism program here and transformed it into one of the best media programs from high school in Mississippi," Cassreino said. . "This award is a reflection of the hard work of my students in this class."
Cassreino said St. Joe's broadcast program has grown tremendously since he took over in 2012, when "The Bear Facts" newspaper was the school's only media source besides the yearbook. "The Shield". Today, the students maintain, write and edit stories for The Bear Facts online and produce their weekly video newsletter, "Bruin News Now".
Students also produce live radio broadcasts and live video coverage of Bruin sports, including football, basketball, and baseball. Radio productions are broadcast on WJXC-LP Jackson, Mississippi Catholic Radio, 107.9, whose studio is in Cassreino's classroom.
"Students appreciate this and work after school, on weekends and during the school day to put together the weekly newsletters," Cassreino said. "I had no idea that eight years ago I would be here receiving national recognition for the broadcast program, and that shows just how effective St. Joe's is."
"Many of my students have gone on to careers in journalism, accounting, music and the military," he said. This national recognition for our student media program strongly reflects the strong academic programs we offer at St. Joe.
Carolyn Erwin, mother of Emerson Erwin, one of Cassreino's junior broadcast journalism students, recommended Cassreino for the award to the Kansas State University Journalism Education Association (JEA) in May of this year.
"I've seen my daughter grow so much, especially as a writer and speaker, under her," Erwin said. "Terry is a great leader, and he encourages students to be leaders. The kids, even eighth graders, are learning to use all the equipment and it's amazing how independent they have become.
Erwin said Cassreino is like a coach because he's there for leadership and direction, but he sets the players up and lets them make the decisions and get a taste of freedom and being leaders .
"Sometimes they fail and they have to learn that they win as a team and fail as a team," Erwin said. "Terry taught my daughter some valuable lessons. The most important thing she learned with him was being a leader and making sure everyone knew the plan and how all the pieces fit together like a puzzle.
She said her daughter Emerson is the current news director of St. Joe's weekly video newspaper, "Bruin News Now."
Kansas State University's JEA was founded in 1924 and is a national organization for high school print and broadcast journalism teachers. They announced the awards last week as part of their annual Stream Advisor of the Year awards.
Cassreino students and their work have received nationwide, national, and international recognition, and some have been named state high school reporter of the year and received the prestigious Orley Hood Award for Excellence in High School Sports Journalism. six of the nine years it has been awarded. .
He was a four-time Mississippi High School Journalism Advisor of the Year and twice recognized by the Dow Jones News Fund as one of the nation's top print journalism teachers. JEA recognized Cassreino as one of the Top Stream Advisors in 2020 when he received a Special Recognition Advisor Award. He is a longtime former journalist with more than 25 years of experience as a reporter, political columnist, and editor for Mississippi newspapers.
Cassreino will be honored at the JEA/National Scholastic Press Association National High School Journalism Convention in November in St. Louis. Cassreino and O'Daniel will each receive $500 for broadcast equipment and a plaque commemorating their accomplishments.
St. Joe's principal, Dr. Dena Kinsey, said Cassreino equips his students with skills they'll use long after high school and college, and views him as a gift to St. Joe.
"The journalism program not only improves their writing skills, but it also teaches them editing, layout and video skills," Kinsey said. "They are comfortable behind and in front of the camera. They learn how to attract an audience and keep them interested. Terry's leadership guides and trains them, then lets them lead the way. I am constantly amazed by the quality of work they produce.
Cassreino is married to Pam Vance and has two children who attend St. Joe's. They are members of St. Joseph's Catholic Church in Gluckstadt.