Oakfield-Alabama says goodbye to the class of 2022 | Featured story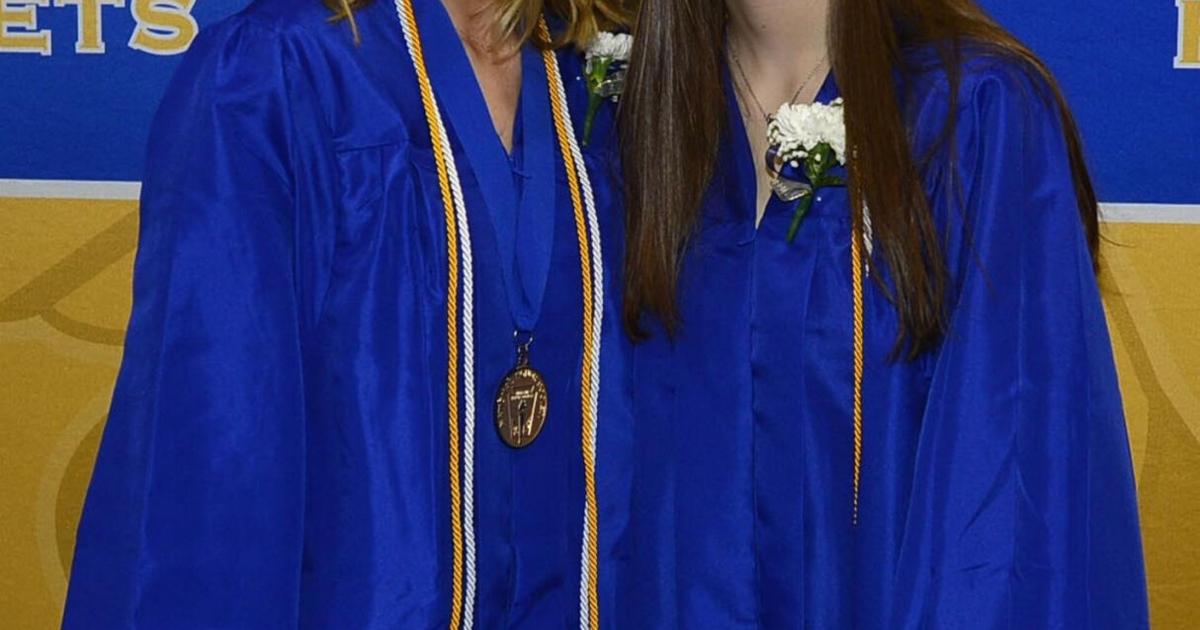 OAKFIELD — Oakfield-Alabama Central School District Superintendent John Fisgus had a surprise for the class of 2022 this morning that he told seniors they wouldn't like.
"I don't approve of your graduation today. I will see you all here again in September," he said. "This ceremony is over. Thanks."
The students and audience got the joke, however, and the ceremony didn't end there. The 52 seniors of the promotion crossed the stage as planned and received their diplomas.
Joking aside, the superintendent said this class has certainly left a name for itself, with eight section titles in sports in the last school year.
"The concerts, the musical, the awards and scholarships won – absolutely incredible and I applaud you all so loudly as you sit here, because you pulled it off," Fisgus said. "Wherever you decide to go, be your best. Whatever you decide to become, be great.
Fisgus asked the graduates to reflect on their accomplishments and prepare for what the real world has in store for them, because it's going to hit them hard.
"I just said this to my youngest daughter the other day and she will be graduating from high school, like you, next Saturday morning," Fisgus said.
The 2022 graduates have been through a lot, especially when the COVID pandemic hit around March 2020 when they were in their second year.
"You had to stay home from school and learn remotely," he said. "The next two years brought uncertainty and a lot of craziness, anxiety and, I know, stress. You're stronger because of it. You're more seasoned because of it. It makes me so proud to knowing that while we will miss you dearly here at OA, I know that each of you will spread your wings and do great things there.
Some older people will leave to join the army, he said. Some will leave the state. Some will go to college and some will start or have started jobs.
"Good luck and fair winds to you all," said Fisgus.
The superintendent told the class the story of four students who partied late one night and did not study for the exam scheduled for the next day. The next morning, the four used grease and dirt to make themselves look dirty, then told the Dean that their car's tire had burst while they were out the night before. They had to drive the car back to campus and weren't ready to take the exam. The dean allowed them to take the new test a few days later, but put them in separate rooms to do so. There were two questions on the exam. The first, which was worth one point, asked them to write their name. The second question, worth 99 points, was "Which tire blew — A: the front driver's; B: front passenger; C: return of the driver; D: rear passenger.
"So, I ask you, what's the moral of the story?" said Fisgus. "Graduates, always take responsibility for your actions, because you will learn your lesson."
Salutatorian Kelsey Schlagenhauf said that while writing her speech, she wondered whether she should be smart, funny or intelligent, or stick to the graduation clichés.
"In reality, most of us have no idea what we are really doing with our lives. I believe one thing is certain. Our stay in Oakfield-Alabama was memorable to say the least. We had a lot of defining experiences that we lived together.
Even though they grew up so quickly and remember similar elements of the school, it's the differences between the graduates that set them apart, she said.
"Some of us have never missed a day of school and some of us have struggled to be here five days a week," Schlagenhauf said. "Some of us were athletes and some were mathletes. Some of us love high school and some of us can't wait to get out of here.
Schlagenhauf said she was grateful for all the adventures she had with the group of people sitting behind her.
"Even though I looked forward to this day, I always hated endings – the end of summer, the finale of an amazing show, saying goodbye to a close friend.
Her parents, Schlagenhauf said, were always taught here to appreciate the journey, not just the destination.
"Each of us walked a different path to get here. Whether your path is straight or with lots of twists and turns, we can always look to OA as the unifying force between us," she said. "We've all had that teacher, close friend or coach, who marked us and inspired us to show up every day and do our best even if we didn't want to."
Valedictorian Colbi Heineman said she asked some of her teachers what she was supposed to say when she spoke today. The answer she got the most was to say whatever she wanted, which Heineman said wasn't helpful because her classmates were laughing. She admitted to being inspired by the show "Grey's Anatomy."
"Meredith Grey, the main character, once said, 'It's funny, isn't it, the way memory works – the things you don't quite remember and the things you don't can never forget,'" she said. "You probably won't remember all the mundane daily activities, the grades you got on your homework, or the class schedules you had memorized. They will all disappear. You will never forget your friends, your first crush, the laughs and the heartbreak. You won't remember the average days that seemed endless, but you'll never forget all the field days, reunion weeks and proms. You probably won't remember all the math formulas we had to learn, but you'll never forget wearing masks and Zoom classes.
Graduation represents an end and an accomplishment, Heineman said, but it also represents a beginning and a possibility.
"Who do we want to be? What do we want to accomplish?" she asked. "We have the power to do with our lives whatever we want."
The class of 2022 includes two graduates who also earned associate degrees from Genesee Community College – Jordyn Tobolski and McKenna Johnson.
Prior to the ceremony, Tobolski said his associate degree was in teacher training transfer.
"It prepares me to go into teaching, so teaching classes, planning, psychology, education classes," she told the Daily News. Tobolski said she was attending Buffalo State to study speech therapy.
Tobolski and Johnson said they were in sixth grade, they tested the program to pursue an associate degree.
"We thought it would be a great opportunity. We got to the halfway point and thought, "We might as well finish it," Tobolski said.
Tobolski said it was worth finishing his degree early.
"I don't have to come back two years out of high school to get my associate's degree. I am already here. It was a little more time in high school that needed to be done and I could still play sports and whatever I wanted," she said.
Johnson said she earned a science, technology, engineering and math (STEM) degree.
"I liked it. It prepared me really well, I think, for college. I already know what it's like to talk to teachers and talk to professors," she said. "I will have all my general education credits on the sidelines, so I can go in and take degree-oriented courses."
From there, Johnson said, she heads to SUNY Geneseo to study on a pre-medical track.