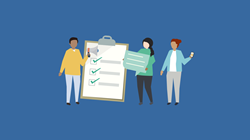 ParentSquare Launches Online Self-Assessment Tool to Help Districts and Schools Evaluate the Effectiveness of Their Home-School Communications
"This new tool will give K-12 leaders actionable insights they can use to refine and elevate their ongoing communication efforts," said Anupama Vaid, Founder and President of ParentSquare.
SANTA BARBARA, Calif. (PRWEB)
October 14, 2021
Effective school-to-home communications are a critical part of student success, but many districts and schools are unsure whether their communications are working well or whether stakeholders are involved. To help them assess and improve their efforts, ParentSquare is sponsoring a new, free online school communications self-assessment tool, which allows principals to compare their school communications to current best practices from Kindergarten to Grade 12. year.
The School Communications Self-Assessment consists of multiple-choice questions that assess five critical areas, including:

Contactability – Practices and technologies that facilitate contact with as close as possible to 100% of families
Content and Frequency – Practices for ensuring that communications sent to families contain actionable content, are easily recognizable, and are sent at optimal times to avoid message fatigue
Family Access and Control – Practices that remove barriers to communication and increase flexibility
Privacy and Technology – Compliance with industry-leading security regulations and protocols
Supervision and Analysis – Practices and tools that enable administrators to fully understand homeschool communications in their district
Upon completion of the assessment, participants receive an overall score, as well as an individual score for each of the five areas of school communication. Additionally, participants will receive a detailed PDF report based on their responses, with score-specific recommendations to help them modify identified areas for improvement related to their district practices or homeschool communications. The self-assessment and its recommendations are designed to be useful to education leaders, regardless of the communication tools or methods they are currently using or planning to use.
A related infographic titled "K-12 Communication Platforms: What Matters Most?" », Serves as a quick reference for the evaluation. It describes the most important elements needed in a homeschool communication platform for various stakeholders including superintendents, communication officers, technology leaders, principals, teachers and families.
"There is no doubt that since March 2020, students and their families have had to experience a lot of disruption in their daily lives," said Anupama Vaid, Founder and President of ParentSquare. "To ensure that they can adapt to the changing school environment and stay on track, schools need to share information with their families as quickly and efficiently as possible. This is why now is the time for districts and schools to take a close look at whether or not their current communication strategies.This new tool will provide K-12 leaders with actionable information they can use to refine and elevate their ongoing communication efforts.
The self-assessment of school communications is free at http://www.SchoolCommsCheck.com.
About ParentSquare ™

ParentSquare is used by millions of educators and families in 44 states for unified and effective school communications. ParentSquare provides parent engagement tools that run from the district office to the individual classroom, supported by powerful metrics and reporting. ParentSquare's technology platform offers extensive integrations with student information and other critical administrative systems, translation into over 100 languages, and access to apps, email, text, voice, and more. to the web portal for fair communication. ParentSquare (http://www.parentsquare.com), founded in 2011, is based in Santa Barbara, California.

Share the article on social media or by email: