Restoring pandemic losses will require major changes to schools and classrooms, superintendents say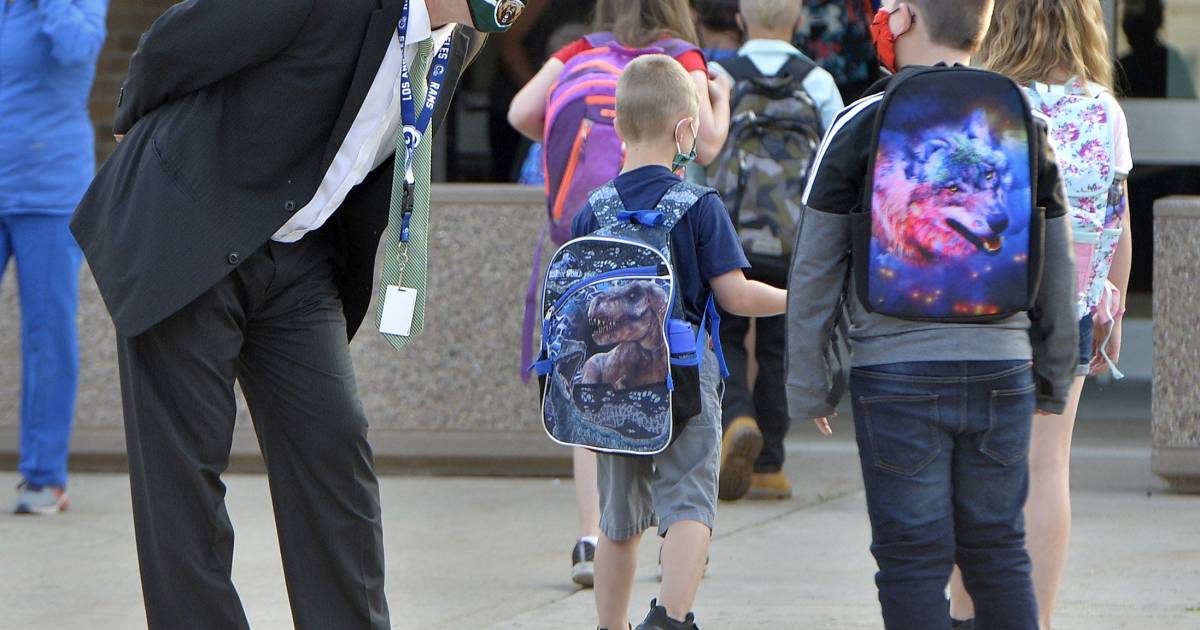 Although the children are learning this year, many are still falling behind the grade level. Our new report— which is inspired by a national survey of school districts — reveals how good intentions have collided with upsetting realities. As new COVID-19 outbreaks and anxiety over health issues kept children and teachers at home, and politics rattled schools in small towns and suburbs, district leaders found themselves squeezed by the conflicting pressures imposed by new state mandates and parental demands.
Top leaders from six school systems spoke about their specific challenges in in-depth interviews conducted for the report. On the promise of anonymity, superintendents and other district leaders were eager to speak about the struggles they could see in schools and classrooms, as well as their concerns for the well-being of children, teachers and students. directors. They were also clear about the need for changes in the way schools operate, including new ways of using teachers' time, money and skills; identify and help children in difficulty; and make greater use of community resources for student learning and support.
Thoughtful plans respond to harsh realities
Many school and district leaders had hoped to accelerate learning in 2021-22 by teaching children at grade level and providing just-in-time help with ideas or skills lost due to pandemic absences. But uneven class attendance, among both students and teachers, has impeded steady progress.
A major district leader reported that half of high school students miss too many days to pass their classes. Others said that one or more schools were closing each week for lack of teachers. Still others said that student and teacher absences lead to constant changes in teacher-student pairs. Leaders in two districts said teachers and students had picked up bad habits during the pandemic. They said their teachers needed to stop using canned materials and instead take advantage of in-person settings to discuss and solve student problems.
System leaders also reported unprecedented levels of stress among children and adults, which affected their ability to focus on studies. "The level of student maturity and engagement isn't there," one district administrator told us. "It's not just a child who has lost ground in reading, it's that he doesn't even know how to function in a classroom with other children."
Teacher absences and resignations were doubly disruptive in the five of our six constituencies where the supply of substitute teachers had dried up. Although most teachers remained in their jobs, far fewer people sought employment in teaching. Districts were forced to poach each other, and some used federal windfalls to sweeten salaries and alienate teachers from other neighboring districts.
Large city districts in our sample reported few problems with culture war policies. But the smaller and less urban were greatly distracted. Vaccination mandates, masking guidelines (and bans on masking guidelines), and disputes over the curriculum have strained school boards and strained previously smooth relationships with parents and among teachers.
With few new tools to meet these startling challenges, many high-level administrators believe that restoring pandemic losses will require major changes in how schools and classrooms operate, and they fear that schools will not be able to do it alone. At a time when unity and working together are essential, district leaders lamented the loss of normal levels of support for parents and staff divisions over labor issues, safety and political issues. Some also struggle with their own fatigue and loss of joy at work.
In October, teachers were telling a superintendent, "I can't do this. I thought I could, but I'm not mentally strong enough right now to do that. It's exhausting." The superintendent added, "Now you have people who are done, and it's only October. Our exhaustion is complete. Another noted,
"Everyone feels stressed. Corks pop, space and grace evaporate.
Solutions require tenacity and creativity
Yet district leaders and other educators are determined and resilient. As the 2021-2022 school year draws to a close, many are mobilizing. A large urban district is establishing new partnerships with community organizations for tutoring and student support. Several others, including a large charter network, are using the pandemic as an opportunity to rethink their expectations for what is taught each year, how they measure student learning and feed it back into teaching plans, and how the district adapts its actions to meet the needs of each school.
Most of the districts we studied are helping teachers adapt to new ways of teaching that require some to present material and others to provide rehearsal or remedial help. Three, including those in a big city, a suburban town and a charter network, are working hard to wean teachers and students out of the habits of divided attention that may work in an online environment but not in the classrooms.
Regarding teaching practices, a district administrator said:
"I think one of the unintended consequences is an overreliance on strategies that you may have had to do when you were teaching remotely and now you don't have to. And so there's a bit of this strategic abandonment that we're working on. … The math problem is not a COVID problem. The problem with math is that we ask children to listen and watch adults do the calculations, not do the calculations themselves.
These issues will be with us for a while
In the wake of a crisis that has drawn attention to district-level actions and policies, leaders are trying to find the right balance between top-down priority setting and school-level discretion. Many are moving away from state or nationally standardized tests and relying on school-level data and local assessments. Some district leaders have stopped trying to standardize practices in their districts and are allowing individual schools to deal with their own combination of student needs and teaching challenges.
In other words, superintendents struggle with the fact that everything from lesson content to the school timetable and the teacher's contract was built for another time. Such mismatches lead to stress and frustration, not only for leaders but also for teachers and parents.
These challenges will not simply go away; they could persist as long as today's first graders stay in school. Can the people who currently run districts and schools adapt? RAND Corporation, our research partner, conducted a study in fall 2021 survey of district leaders and found that only half of superintendents said they were likely to stay in their position long term. If many quit, who will replace them and how will successors get the skills they need?
From what we heard last fall, these and other questions will likely remain unresolved or even become more difficult as we enter summer and begin the 2022-23 school year in the fall. The traditional bonds of trust between parents and schools, and between educators, are strained. Many urban districts are losing students to homeschooling, charter and private schools, and small towns, and they face big losses in state funding. This will make it even more unlikely that school districts will be able to meet the needs of students with the schools, teachers and methods at their disposal.
Solutions will require new ways of spending, measuring performance and monitoring schools, as well as greater flexibility in teacher recruitment, training and work. Superintendents and school board leaders cannot make these changes alone. They will need serious help and new thinking from governors, state legislators, the federal government and philanthropy.