Ride Up allows bike manufacturers to take advantage of the subscription model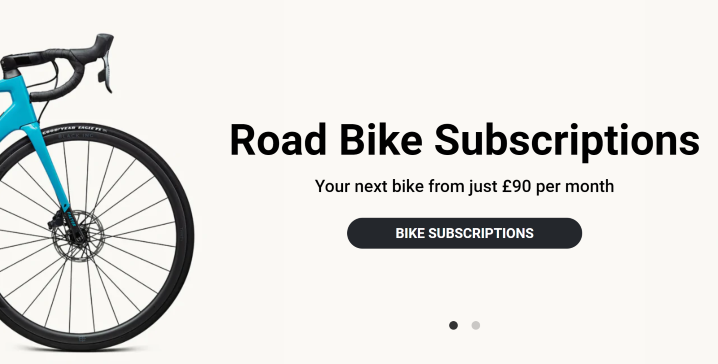 Ride Up has launched a new platform to help bike manufacturers capitalize on the bike subscription industry.
The Ride Up road bike subscription service will allow consumers to swap new top brand bikes on a regular basis, on a flexible, fixed price monthly subscription basis from just £70 per month, and offers opportunities of partnership to manufacturers so that they can reap the business benefits too.
A lucrative business model already present in the "bicycle as means of transport" sector, subscription-based services play a significant role in the projected growth of the market, which is expected to reach $127 billion over the next ten years.
Where the subscription model strongly appeals to a younger population accustomed to Netflix, Zwift, HelloFresh and Swapfiets, this audience is attracted by the accessibility offered by the subscription, combined with the flexibility to change bikes more frequently.
Ride Up will give consumers access to ambitious bikes for a small monthly investment. Subscriptions start from just six months and all bikes come with insurance, warranty and service plan.
In line with its new 'circular' business model for bike brands, Ride Up is also offering its range of pre-loved bikes from six month subscriptions, starting at just £50 a month, and helping cyclists to afford the upgrade to a new bike by having them traded in and refurbished at one of 15 Ride Up centers across the UK, for the next rider.
Ride Up's mission is to enable a continuous "life cycle" for bicycle manufacturers through bicycle subscriptions, from a customer's first road bike to their professional road bike, and everything in between.
The Ride Up platform will provide two revenue opportunities for bike manufacturers:
A white label bike subscription solution for their own website and retail channels with no time to market or investment.
Access to new customers through a new online retail channel, RideUp.cc and through Ride Up centers across the UK, which will also make it easier to trade in their current bikes.
Tim Hammond, co-founder of Ride Up comments: "For bicycle brands, Ride Up offers the opportunity to embrace subscriptions such as the automotive industry and the technology and communications sector. Apple allows its customers to upgrade to the latest model every year and trade in their old one for the new one as part of a monthly plan. Now bike manufacturers can do the same using the Ride UP bike subscription and trade-in platform. "

"With the ease of upgrading to inclusive monthly plans, I predict half of the bike market will convert to subscription plans by 2025."
Co-founder Russ Downing said: "With the current financial climate why would you want to put a bike on a long term finance plan or buy now pay later when you can just rent it and return it anytime? New bike models come out every year or two. You can now upgrade to the latest model when it comes out (without) the cost of buying or the stress of selling (your) current model.
Unlike normal bike purchases, Ride Up customers are not tied to long-term finance plans and can cancel their subscription after the initial six-month period. If they want to buy the bike, they can also pay the balance between what they have already paid and the sale price of the bike.
Each month, Ride Up will organize outings across the UK to allow riders to test a new bike before subscribing.
Bike brands can learn more about Ride Up's platform offering in a presentation created just for them.
The third member of Ride Up's founding team is Ryan Owens, Team GB track cyclist and Olympic silver medalist (Tokyo 2021), who joins former British champion Russ Downing and Tim Hammond who started with success of the Cycle Espresso coffee network last year.