Stratford internet tower vandalized, schools, customers left without service | Crime and courts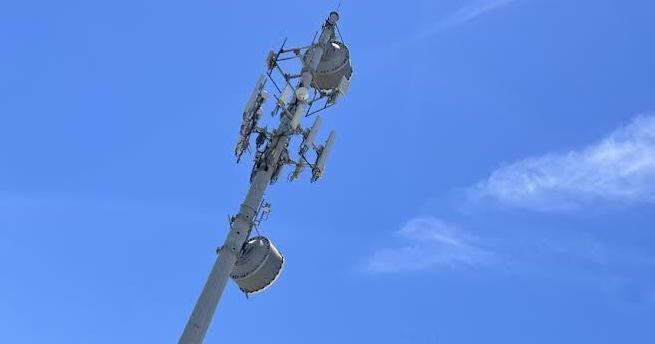 The Kings County Office of Education internet tower at Stratford Elementary School was set on fire by a vandal and severely damaged on Friday, cutting internet access to the school and around 70 of the 4,000 customers it serves by the tower, according to officials.
The Bureau of Education is the Internet service provider for all schools in the county's 13 districts and has a network of towers and fiber lines throughout the county that provide Internet access to physical school sites in addition to 4000 customers.
The fire melted all the wiring that runs inside the tower, officials said.
"The gear on top may be okay, but we won't know until we can get a crew to run more cables. This effectively eliminates all internet to that school, including our kindergarten at It also destroyed our wireless capability (KingsNet) and the Verizon facility that's on that tower," said County Schools Superintendent Todd Barlow.
Until the connection can be repaired or replaced, there will be no internet access for Stratford Elementary staff and students and all 70 customers unless they have it on their phone. and don't use a provider other than Verizon, officials said.
"Elementary students aren't currently in session, but August is right around the corner and there are students in the high school and community college summer programs to think about," Barlow said.
According to Barlow, multiple patches are in the works to address the outage.
The IT department was already working on a fiber optic project to connect Stratford Elementary and the project is nearing completion but is stalled due to a permit issue, Barlow said.
"The county has reached out to their ISP, CENIC, and they're going to explain the situation to Comcast and PG&E to hopefully expedite this connection on their end," Barlow said.
The Bureau of Education has also contacted the Town of Lemoore to try to expedite an existing permit application on the town side.
"We expect this link to be up and running before the start of the school year, but with the service compromised, it becomes much more vital that it is completed as soon as possible," Barlow said.
The tower will need to be inspected to ensure it is safe before the KCOE can schedule any type of cable replacement or other work. The county inspector was included in all communications regarding the damaged tower to expedite this process, according to Barlow.
"It's possible he would condemn the tower and then we would have to remove it and replace it. That would potentially involve the State Architect's Division and probably wouldn't be a quick process," Barlow said.
The Office of Education is also investigating the feasibility of purchasing or renting a temporary crank tower, but should verify that it can obtain the heights and weight support necessary to operate one.
The suspect was captured on surveillance tape and that footage was sent to the Kings County Sheriff's Office, officials said.
"On behalf of the students and community of Stratford, we are reaching out to local, state, and federal officials. Any leverage or assistance they can lend to remedy this situation, particularly with respect to licensing, would be greatly appreciated," Barlow said. .
Lemoore Town Manager Nathan Olsen has proposed a temporary tower, pending a state structural inspection, according to Barlow.
"Our technicians were able to mitigate the issue for some members of the Stratford community whose connection could be redirected to another of our towers located at Central Elementary School. But the receivers must be within range and this is not a solution for everybody." Barlow said. "All of this highlights the importance of the fiber optic project that we already have underway. With this, the school site could be operational, even without a tower."