The best online puzzle subscriptions for unlimited fun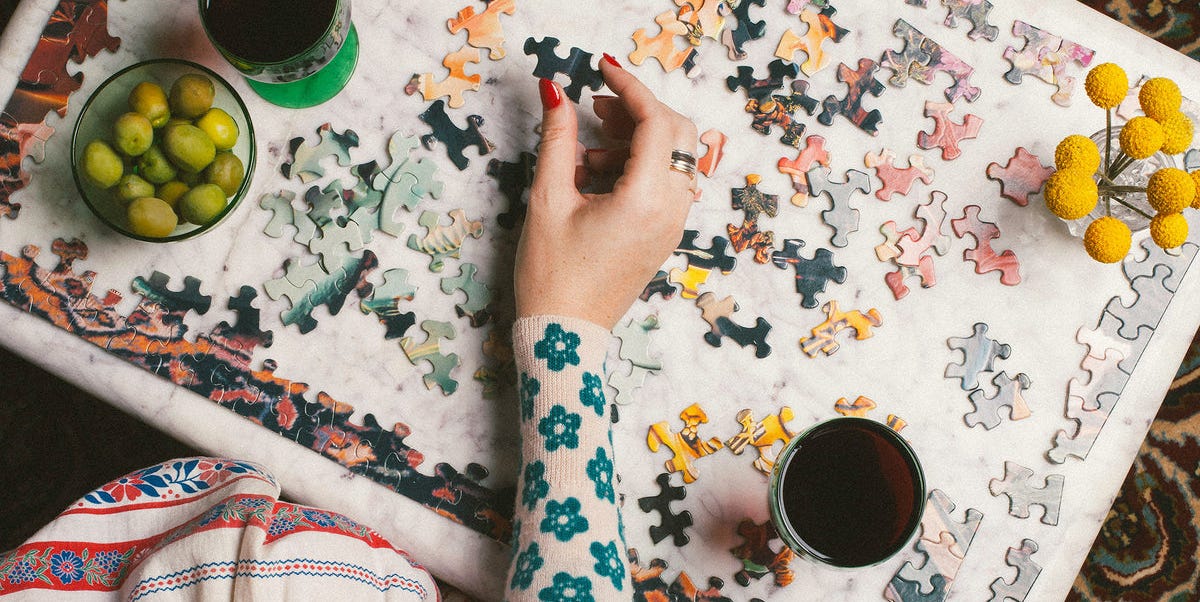 I'll be the first to say that until a month ago I had no idea what a puzzle subscription was. In a world of candle and plant memberships, it was confusing (for lack of a better word) what joining a puzzle club would entail. So I took the time to investigate! Online offers are not only beautiful, but a chance to create a community with other puzzle lovers. There's something distinctly meditative about working on a puzzle…there's no need to rush when it's an enjoyable escape from the task at hand (especially when you're looking for an activity to entertain your guests while you finish dinner).
From a design perspective, decorating your coffee table with the final masterpiece is a clever way to bring color into your space. You can even tape the final product to display it on your walls as a piece of art! Puzzle Subscriptions pick the whole thing for you, offering monthly, quarterly, or bi-monthly puzzles. And don't worry: the puzzles meet you where you are so you don't have to start big with a 5,000 piece puzzle – options range from 300 pieces to 1,000, 5,000 and more. I started working on one of Jiggy Puzzle's 450 piece sets on my own to really get a feel for the experience. Although I'm far from done, knowing that I can start the process again at any time is the attractive factor of completing a puzzle. Check out the best puzzle subscriptions and some of the most fascinating puzzles to hang on your walls as art. If you're someone whose favorite time is taking apart the puzzle or looking for chic art, this is the missing piece to your decor.
Advertising – Continue Reading Below
1
JIGGY Puzzle Club
Jiggy Puzzles celebrates the work of independent artists by reimagining their work in the form of puzzles. The woman-founded brand amplifies the voices of amazing artists you'll want to have in your home. Their puzzle club is available monthly, bimonthly, and quarterly. The brand promotes self-care and takes a step back to notice how the little things always come together.
2
Puzzle Club of the Month
If you're looking to start from scratch at a novice level, this 300 piece jigsaw puzzle is for you! The subscription is super affordable, giving you two puzzles with each shipment. Mary Maxim's puzzles are picturesque glimpses of rural life and animals. It's a family brand that your children will look forward to receiving each month.
3
Puzzle Subscriptions
Buffalo Games offers 6 or 12 month subscription plans. Although the commitment is expensive, these vibrant puzzles will keep your friends and family entertained all year round. You can also choose the size, illustration and difficulty of the puzzle. The art varies from adorable animals to dreamy landscapes.
4
Culture Club Puzzle
If hosting a game night gets super competitive, this puzzle club will fit right into your regular schedule. The brand supports independent artists and sticks to a fun theme each month. The subscription box comes with freebies so everyone has something special to look forward to. You can engage in monthly or quarterly puzzles. The brand is focused on creating an immersive experience for puzzle lovers.
5
Vintage Succulents Jigsaw Puzzle
If you are looking for something without any conditions, here is a nice puzzle without subscription. It's a 1,000 piece retro puzzle that will look great by your kitchen window.
6
Energy lunch
Tired of the WFH? This puzzle will take you back to the days when you were running around the city to manage your business. Piecework Puzzles doesn't offer a subscription service, but you can play curated playlists to serenade yourself while working on the puzzle. There are also glamorous art mini-puzzles if that 1,000 piece option is too much on your plate.
7
Puzzle
When you're not journaling in Rifle Paper Co.'s beautiful notebooks or covering your walls in their whimsical floral wallpaper, their fun puzzles will be the perfect pick-me-up! This puzzle takes you on a road trip through the United States. The brand offers flower-filled puzzles and daydream-worthy puzzles you'll want to hang all over your bedroom.
This content is created and maintained by a third party, and uploaded to this page to help users provide their email addresses. You may be able to find more information about this and similar content on piano.io
Advertising – Continue Reading Below