UMSL Partners with St. Louis Fed to Offer Personal Finance Graduate Certificate Program for Educators – UMSL Daily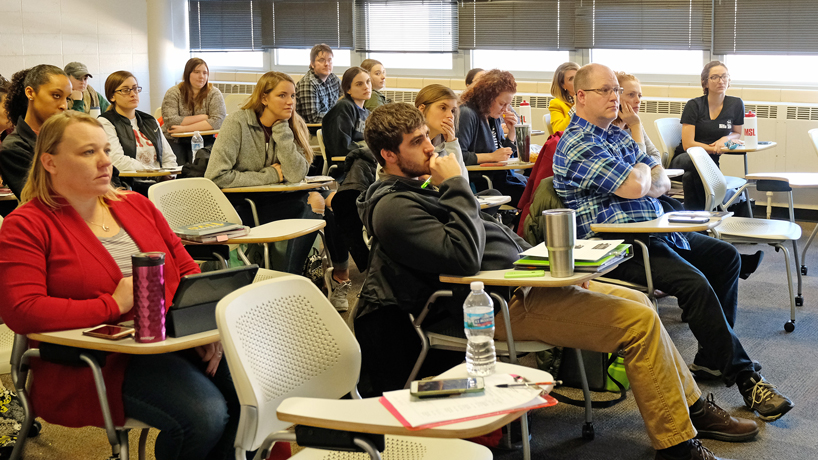 the University of Missouri-St. Louis joins the Federal Reserve Bank of St. Louis provide secondary school teachers with Graduate Certificate in Personal Finance aimed at helping improve the quality of personal finance education throughout Missouri.
The program requires 12 hours of in-person and online graduate credit coursework over one year. Instruction begins with an in-person seminar June 6-10 at the St. Louis Fed's downtown office and continues online throughout the academic year beginning in September.
"This is a unique partnership, possibly the first of its kind in the nation, and it will help transform personal finance education in the St. Louis area and across the state," said Andrew Kerstendean of College of Arts and Sciences.
The program consists of nine credit hours of synchronous and asynchronous online learning and three hours acquired during a week-long in-person seminar at the St. Louis Fed. The program is open to any certified teacher interested in teaching personal finance. Twenty educators will be selected for the first cohort.
"Often, those who teach personal finance need support in the form of content, teaching strategies and teaching resources," said Mary Suiter, assistant vice president and head of economic education at the St. Louis Fed and alumnus of economics at UMSL. "This program provides teachers with professional development that emphasizes hands-on learning, cognitive science-based instructional strategies, and personal finance content grounded in economic decision-making. Teachers in the program will use all of this to improve classroom teaching.
The course will emphasize economic decision-making applied to personal finance content that aligns with national education standards, including careers and income, spending, saving, responsible use credit, investments and insurance.
Beyond teaching, the program will also provide educators with a network of personal finance teachers to share knowledge and best practices.
"When teachers are called upon to be at the forefront of educational initiatives such as mandatory personal finance education, it is imperative that we also provide them with relevant, practical and well-founded knowledge and pedagogies," said Anne Taylordean of College of Education. "We are thrilled to partner with our colleagues at the Federal Reserve Bank and across campus to launch what will become the go-to certificate program for teachers and students of personal finance education."
The cost of the program is $522 per credit hour for residents of Missouri and Illinois. Scholarships will be available.
For more information on course content, contact Mary Suiter to [email protected] For any questions regarding registration or scholarships, contact David Stofer to [email protected]

Short URL: https://blogs.umsl.edu/news/?p=92334