Vacayou Wellness Travel appoints Chris Brown as Product Manager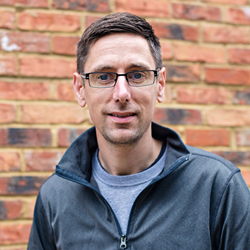 "I am passionate about using technology to redefine the user experience in travel, which we will do by introducing a new booking concept that we can leverage as a unique selling tool – an industry disruptive innovation that has not yet been deployed by any travel technology provider," says Brown.

TAMPA, Fla. (PRWEB)
April 10, 2022
"We are thrilled to have Chris join our team and lead product development and technology to new heights!" says Murielle Montecalvo, founder and CEO of Vacayou. "Wellness tourism is one of the fastest growing trends in travel and is expected to reach $1.3 trillion globally by 2025.
"While countless brands use the term 'wellness' in their marketing, Vacayou breaks the hype and hand-picks the best wellness and active experiences around the world. Many of our customers are travelers wellness for the first time. It is important that we educate them about the types of retreats, spas, tours and resorts available that help lead healthier lives," says Montecalvo.
Brown, a travel industry veteran, has had several successful travel startups. Prior to joining Vacayou, he co-founded travel tech startup TrustedTrip, which is the industry's first verified travel review solution. Previously, he co-founded and was the innovative creative force behind the independent holiday review website Holidaywatchdog.com in 2000. Holidaywatchdog.com was acquired by TripAdvisor in 2008.
"I am passionate about using technology to redefine the user experience in travel and especially in the wellness space, which we will do by introducing a new booking concept that we can leverage as a tool unique selling point – an industry disruptive innovation that is yet to be rolled out by any travel technology vendor," says Brown. "I am thrilled to join the Vacayou team and take our travel technology solutions to the next level."
Brown also co-founded Sunshine.co.uk, a large OTA (online travel agency) in the UK where his leadership and technology expertise helped build a highly successful travel agency which was purchased by the holiday specialist OnTheBeach in May 2018 for £12. million pounds.
"Chris brings an unparalleled OTA experience and UX design, which will ultimately bring a whole new dimension to Vacayou's booking platform," says Montecalvo. "With Chris' expertise, we're building technology that will not only be a game-changer in the travel industry, but also provide a better user experience for how we serve our travellers, partners and communities."
ABOUT VACAYOU

Vacayou is a wellness travel platform to discover and book exclusive wellness-focused experiences and active adventures to nurture mind, body and soul. Its mission is to create a healthier global community through wellness and active travel. Whether introducing travelers to "a touch of wellness" or booking a fully immersive wellness or active experience, Vacayou makes planning and booking as easy as the trip itself.
Vacayou has a strong social media presence and an online magazine featuring thousands of posts from health and fitness bloggers and wellness travel influencers around the world. Vacayou has been recognized as one of the "Top 25 Travel Startups for 2022" by PhocusWire, the daily travel industry news companion powered by Phocuswright, the travel research authority and brand. most respected events in the world. The company was also awarded the prestigious "World's Best Wellness Travel Agency 2021" by The International World Spa Awards.
Tampa-based Vacayou was founded by Muirelle Montecalvo in March 2019. The site's advisory board includes wellness industry veterans Thomas Klein, former President/CEO of Canyon Ranch; Sallie Fraenkel, former COO of SpaFinder and current President of Mind, Body, Spirit Network; Dwayne Ingram, travel industry veteran, formerly IBM and Amadeus; Adam Glickman, former vice president of the Global Wellness Institute for Tourism Initiative; and Andrew Gibson, former VP Well Being Luxury Brands, AccorHotels.
https://www.instagram.com/vacayoutravel/

https://www.facebook.com/vacayoutravel

https://www.linkedin.com/company/vacayoutravel/

https://twitter.com/vacayoutravel

https://www.tiktok.com/@vacayoutravel
Share the article on social networks or by e-mail: