Valley resident teaches inmates to become barbers | Lifestyles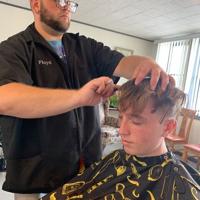 Getting up at 4:30 a.m. to get to Camp Hill is no problem for Milton resident Floyd Merritt, 36.
"When you love what you do, it's never a hard day," he says. For the first time in my working adult years, I really like my job.
Recently, during his hour plus ride, barber instructor Merritt reflected on what inspired him to become a barber and what changed in his life. He decided to ask his students the same question. He was amazed by the responses he received. "One of them said that if they had had this training before, they probably wouldn't have committed the crime that put them in jail."
Merritt was born and raised in Scranton and moved to the Valley 10 years ago. While operating his own store in Muncy, Merritt was recruited by officials at Allenwood Federal Prison to set up a hairdressing education program at the facility. After establishing this program, Merritt accepted a position as an instructor at Camp Hill State Correctional Facility and began teaching there in January.
There are 15 students enrolled in the current program. They are of various origins and have committed various offences. A minimum of 1,200 hours of instruction from a licensed teacher is required for students seeking certification in Pennsylvania. Most barber programs typically last 10-12 months.
One of the things that surprises Merritt the most is when he tells people about his job at SCI Camp Hill and they ask if he's afraid of working in prison. "My answer is no. I feel safe giving these gentlemen scissors and razors because they want to be there. They respect it and they respect the craft that Merritt is teaching them." When you respect them as human beings, they give you respect."
A strong believer in second chances, Floyd recognizes the challenges of his position. "Every day is like a roll at Yahtzee; you never know what you are going to get. He feels that his students have already been tried for the crime they committed and are serving their time. He is there to make it a successful barber. Merritt believes in stepping back, looking at what led them to commit the offense and trying to find new ways to help them rebuild their lives.
His pastor Timothy Hogan-Palazzo shares that Floyd is motivated by his love of God and his desire to serve. "He lives and works from a place of grace, striving to live out his faith in everything he does."
Floyd can't wait to walk into a barber shop 20 years from now and meet someone whose life he helped change. "I believe that God has led me where I am and he shows me every day what the life of these men can become. I realized that God was meeting me there in the prison.
Another of his students – who was asked what had changed in his life since starting Merritt's course – said: 'It wasn't the barber world that changed us, it was the teacher who teaches it.