What's it like teaching at an online-only school?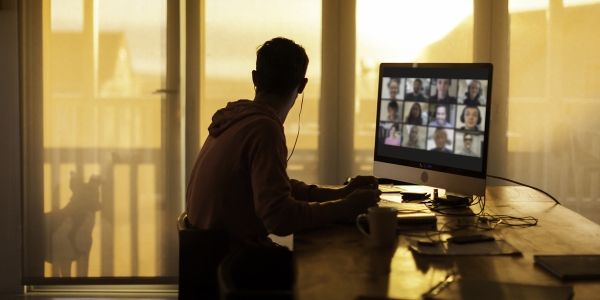 Think back to the 2020 summer term, when thousands of students and their teachers logged on to laptops every day to take online lessons from home.
While many teachers would be filled with dread at the prospect of returning to this lifestyle, there will be others who will miss the benefits it has brought – the increased flexibility, for example.
But what if you could work in a school where learning was always online, all the time?
Such is the case with Minerva's Virtual Academy, an independent, fully online school for ages 12 to 18 that attempts to bridge the gap between fully parent-led homeschooling and the traditional school experience by combining the self-study and live online. lessons with field trips and after-school clubs.
The academy is a sister organization to Minerva Tutors, a London-based tutoring business. It began life in December 2020, at the height of the coronavirus pandemic, and has been on an upward trajectory ever since – growing from 180 students in its first class to 250 in its second.
Hugh Viney, founder and chief executive of the academy, says the new school was born out of increased demand for tutoring during the lockdown, as parents and children found learning from home was working for them.
"Five to 10% of families in the UK enjoyed the experience and decided 'maybe homeschooling could be the one for my child,'" says Viney. "It's a small percentage of kids but a lot of kids."
During the pandemic, Minerva Tutors was receiving many requests for individual sessions. The problem was that access to enough of these sessions to properly support their child's learning was financially out of reach for many parents.
When the Minerva team noticed how many parents wanted essentially the same thing – a Covid-secure homeschooling experience that covered basic subjects and qualifications – they realized there was a gap in the market. for something more comprehensive than typical tutoring.
"We wanted to help more families with an alternative education, which had to be affordable and still give them that sense of community," Viney says. "What most families wanted when they called us was affordability, community…[and] a good education."
Currently, around 70% of Minerva students are based in the UK and 30% in the rest of the world, including France, China, South Korea and India.
For many UK parents, enrolling their students at Minerva gives them access to a more structured home-schooling experience, while some overseas parents choose it to give their children access to a UK curriculum and GCSEs and A -international levels.
For others, with kids already embarking on a professional career in sports or drama, it's a convenient way to fit studies into regular travel and extra commitments.
---
More teaching and learning:
---
So, what's it like teaching in an all-virtual school?
The academy operates on four "pillars", Viney explains: a virtual learning platform, which students use to study independently on a day-to-day basis; live lessons, for classes of 10 to 20 students; an individual mentor for each child; and interactive extracurricular activities and occasional in-person get-togethers, to create a stronger sense of community.
For teachers, one of the advantages of the online approach is that they can be based anywhere in the world, just like students.
The school currently employs staff across multiple time zones, from London to Dubai, offering them the option of maintaining a full-time contract while traveling or working from home.
Although entirely online, the structure of the school week is quite recognizable: students have assemblies on Mondays, after-school clubs every day, homework help and parent meetings, plus sessions wellness on Thursdays for students to practice mindfulness and breathing exercises. .
They even organize field trips and outings twice a term for students to meet and explore a cultural landmark. This term they are heading to the Houses of Parliament for a visit. "We're starting in London," Viney explains, because that's where the school's headquarters are, but "we'll soon be doing one in Paris or Amsterdam."
Many students who choose this online offering do so because it meets their needs more easily than a traditional traditional setting.
About half of Minerva Virtual Academy students report some form of mental illness, specifically anxiety and depression, and about 40% report some kind of neurodiversity.
Amid the pandemic, Viney notes that this has been a lure for online education: "So many of our kids have come to us because traditional school isn't working for them. It makes them sad. It makes them anxious. It makes them frustrated.
These students benefit from the flexibility and autonomy of online school and self-study, while avoiding the challenges that the physical school environment can pose.
But like any educational offering, it comes with a unique set of challenges.
A key one, Viney points out, is that students must be prepared to work independently as much of the content is delivered through the virtual learning platform as self-study units.
Students need to be "very self-directed and self-directed because you need to be able to work on your own, at your own pace," he says.
The other problem that often comes up is that parents do not fully appreciate the difference between formal education and home schooling; after all, teaching online through a virtual service cannot be "in loco parentis" five days a week.
Viney says staff sometimes have to remind parents that "they're not sending the child to school, which is then in school custody from 8:30 a.m. to 4 p.m."
"Indeed, more often than not, the children are in the care of the parent all day," he says, "so it's a novelty for [some] parents to practice.
The school is also not open to all – only pupils whose families can afford the fees (£6,950 per school year or £2,650 per term) and who have a device enabling them to attend classes – can register.
Because the school is so young, this year will be its first GCSE cohort and its first sixth form pupils will start in September.
But even as they wait for the first official exam results, Viney and the faculty are confident that this new style of teaching will be a success. For them, the most important measure is whether students like school.
"That's how we measure, based on their feedback, based on them staying with us and seeing [returning students] join us next year," he explains.
At the same time, however, there's no doubt that Viney and his staff — like teachers in schools across the country — will be holding their breath for those results this summer.
"Of course, we have to be able to prove to the world that we can get results too," Viney says. "Because, let's face it, that's also what matters to parents."
Molly Bolding is a freelance journalist, inclusion consultant and online educator